Should I Repair or Replace My Warehouse Racking?
by Dan Bergman, on May 1, 2020 at 9:00 AM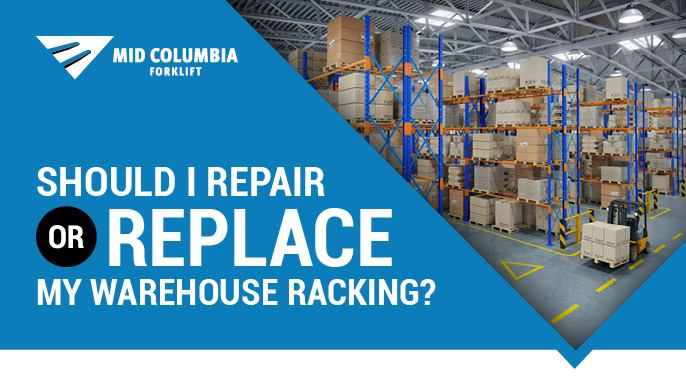 If you're in the warehousing business, you know that it can be a high-risk working environment. Risks go beyond heavy equipment, however. The constant wear and tear on your pallet racks can cause damage that may be easily overlooked. It is essential that you identify any damage to your racking early and either repair or replace the damaged components to reduce avoidable safety hazards.
Common Causes of Pallet Racking Damage
Pallet racking may be heavy-duty, but that doesn't mean that they are immune to damage. Some of the most common causes of damage to your racks include:
Damage from forklifts due to operator errors

Racks overloaded with too much weight

Operational changes (such as push-pull attachments) that racks are not configured to handle

Faulty equipment contributing to collisions or damage to racking

Faulty component combinations in your racking assembly
Work to reduce damage to your warehouse racking systems through effective training programs for your operators and robust maintenance plans for your forklift fleet.
Signs of Warehouse Racking Damage
You should conduct regular inspections of your warehouse to identify potential damage that can impact your productivity. For your pallet racking look out for these trouble signs:
Beams and racks that are tilted or misaligned

Racks that are overloaded with product

Poorly positioned and loaded pallets

Visible damage such as bending to uprights and beams

Rust, corrosion, or other signs of damage due to climate conditions
Any of these warning signs should be a major red flag. They are a sure sign that you need to identify the cause of the problem, and determine whether to repair or replace your racking systems.
Benefits of Repairing Your Warehouse Racking
Sometimes, repairing your warehouse racking may make the most business sense. Specific benefits of repairs include:
Reduced interruptions to the regular flow of business

May be less expensive than shipping new uprights

Can be easy to complete for mid-row repairs

Some repair kits can be used at various heights
Ultimately, safety should be your first priority when deciding whether to repair or replace racking.
When to Replace Your Pallet Rack
Unfortunately, replacing your warehouse racking is sometimes the only safe option. When it comes to your warehouse, these situations make the most sense for a total replacement:
Significant damage to front or back of the rack

Multiple damage points at different heights and sections

Standard build, standard height racks may be inexpensive to replace entirely

When moving to a new facility, installing all-new racking may make the most sense
If you're uncertain whether you should repair or replace a section of racking, it is always best to err on the side of caution. Not sure of how to proceed? Contact the talented team at Mid-Columbia Forklift and MidCo Material Handling. Whether you need to reconfigure existing racks or source a replacement for damaged equipment, our team will be happy to help keep your workspace safe and productive.
Further Reading:
Is My Warehouse Racking Compliant with Washington State Fire Codes?
Forklift Operator Training for OSHA Compliance
Top Ways to Reduce Downtime in Your Warehouse