The Best Pallet Racking Solutions for Your Warehouse
by Dan Bergman, on July 3, 2020 at 10:45 AM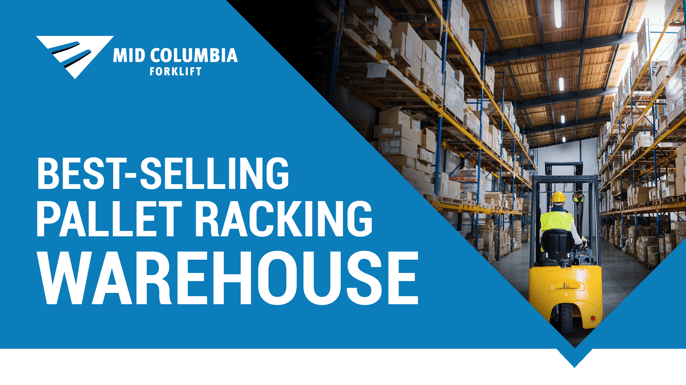 For companies moving high volumes of product through their warehouse, it can be easy to take your pallet racking for granted. However, this racking needs to be treated like your forklift or other pieces of essential equipment, because it directly affects your bottom line. Racking that is incorrectly configured or poorly maintained can reduce your productivity and cause avoidable damage to your products, equipment, and employees. If you've ever wanted to know more about your warehouse's racking, keep reading to learn more about alternative configurations that may help improve your organization's performance.
Components of Pallet Racking
It's important to understand the components of the warehouse pallet racking before discussing different configurations. Most racking configurations feature two vertical uprights at each end of the rack, as well as at least two pairs of horizontal load beams for shelving pallets. Those load beams can either be kept as is or may feature wire decking to allow shorter items to fit on the racking. These main components are consistent across all pallet rack configurations. Keeping warehouse racking maintained and in proper condition is essential for success.
Pallet Racking Configurations
Pallet racking is not as simple as setting up shelves. Things such as your forklift's right angle stack (RAS), turning radius, mast height, and other items can affect the configuration. Whether your business relies on electric or propane forklifts, the right configuration can help make your workers more efficient.
Selective Rack
A selective rack is the most common warehouse pallet racking configuration. It gives operators complete access to all pallets of product without having to move any other pallets. This configuration is much like a bookshelf, where all of your products are viewable in the single row on the rack, with nothing stacked on top of each other to allow easily selected and accessible product. A selective rack is very flexible for many different pallet sizes, and load beams can be easily adjusted to allow for new product sizes and shapes. Its simplicity allows for fast assembly, but maintaining stock and optimizing square footage for maximum ROI can be difficult with this configuration.
Drive-In Racking
For those companies looking to maximize their pallet storage per square foot in the warehouse, Drive-In or Drive-Through Racking. This older configuration reduces the number of aisles in the warehouse and allows pallets to be stored up to 10 or 12 pallets deep. While this may optimize the usage of space, it presents challenges for operators. Drive-In racking configurations can make product retrieval difficult, prevents First-in, First-out (FIFO) processing that is necessary for food companies, and reduces pallet flexibility. For those companies with non-expirable products and fewer SKUs, drive-in racking can help maximize ROI if you're willing to take on the challenge.
Push Back Rack
Push Back Racks are growing in popularity. While similar to Selective Racks, a Push Back Rack uses carts that roll backward when pallets are pushed into that space. For companies relying on reach trucks or other specialized warehouse equipment, this configuration can help maximize the square footage and product throughput. It is a more complex solution in design and installation requirements, so you will have to determine the ROI of improving retrieval and storage against the initial costs.
Consulting with the right warehousing specialist can help you determine what racking configuration is best for your business. Mid-Columbia Forklift and MidCo Material Handling can help you make an informed decision for your business, from racking configuration to fire code compliance. Contact us today to discuss your unique business needs and learn more about our warehousing solutions.