Top 3 Doosan Forklifts for the Lumber Industry
by Hank Ansley, on April 20, 2020 at 9:45 AM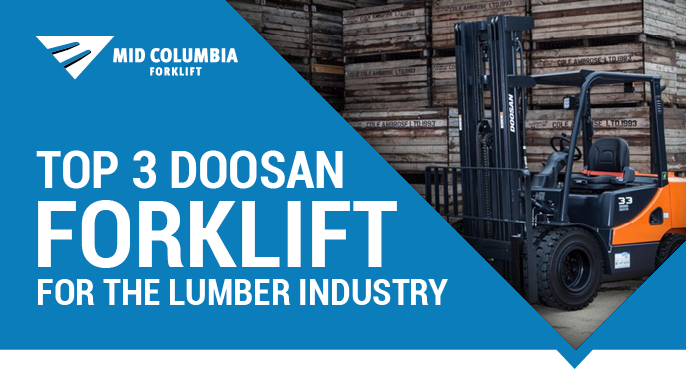 Working in lumber applications can quickly take a toll on your forklifts and operators. Rough terrain. Heavy lifting. Unpredictable weather. The wear and tear caused from working in these conditions can put your forklifts and employees out of commission if they are not up to the task.
A growing number of lumberyards and similar businesses have come to trust Doosan forklifts. Their ergonomic designs, dependable diesel power, and ease of maintenance make Doosan forklifts a strong choice for lumber operations.
Top Doosan Forklift Models for Lumber
Whether you are rendering raw lumber, manufacturing, or stocking in a lumberyard, Doosan has a full lineup of equipment to meet your needs. With capacities ranging up to 36,500 pounds, you'll be able to reliably tackle any load of wood.
Doosan D90 - 18,000 Pound Capacity
For a lighter capacity in lumber yards, the diesel D90 features the dependable power and Tier-4 Final compliance operators need to move huge pallets of rendered wood. With ergonomic design considerations for operator safety and comfort, as well as engine performance drive modes for improved fuel economy, the D90 delivers a lot of power in a small, dependable package.
Doosan D120 - 23,000 Pound Capacity
For heavy duty jobs in lumber rendering and manufacturing operations, the Doosan D120 is likely the right fit. With a larger footprint to establish more power, Doosan's Zeus cabin provides improved operator comfort and visibility, without sacrificing ease of service or simple use. The D120 boasts capacities up to 23,000 pounds, making it capable for many applications.
Doosan D160 - 36,000 Pound Capacity
For raw lumber harvesting and heavy duty work in hardwoods, the Doosan D160 delivers the lifting power you need. With capacities up to 36,000 pounds and industry-proven components designed to last, this Doosan can change the game. Extra ergonomic considerations keep your operators comfortable across uneven terrain while intelligent design considerations such as a responsive cooling fan help reduce wear and tear on key components.
Whatever your capacity needs may be, Doosan delivers the maneuverability and visibility your operators want with the maintenance access and proven components you need to get the job done.
Want to see a Doosan in action? Our equipment for sale is fully stocked and we are ready to provide quotes, contracts, and delivery to keep your lumber operation running smoothly. Whether you want to learn more about the models we carry or discuss your unique business challenges, the team of highly skilled material handling pros at Mid-Columbia Forklift and MidCo Material Handling is here to help you. Contact us today.
Further Reading:
Doosan Forklift Models for Sale
7 Things to Consider Before You Buy A Forklift
Open and Ready to Serve: Covid-19 Response