Open and Ready to Serve: Covid-19 Response
by Midco Forklift, on March 25, 2020 at 6:13 PM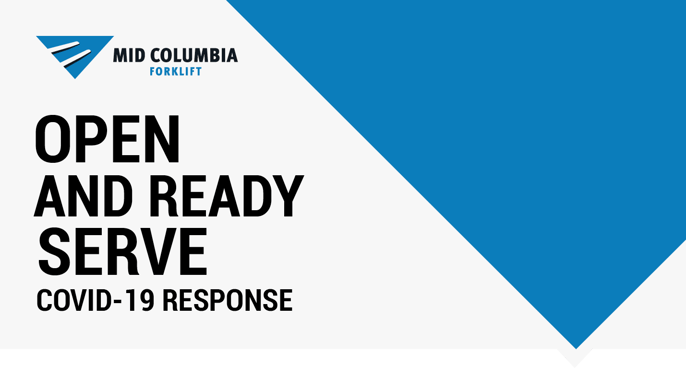 Dear Valued Customer,
At Mid Columbia Forklift and Midco Material Handling, the safety and health of our Staff and Customers are our top priority. As we monitor the COVID-19 crisis, we have implemented strict sanitization and social distancing protocols in an effort to keep everyone safe.
All team members are being advised on the latest CDC recommendations and are taking precautionary health measures, including frequent hand washing, social distancing, and staying home when sick.
While some will learn to work from home and take these extra precautions, we want you to know that as an essential business to the supply chain; our stores are OPEN and we are available by phone or email. Our Technicians are fully available to service your equipment at your location or transported to our shop. Our Technicians will make every attempt to meet your Companies unique requirements.
Please let us know how we can best help you with all your service, parts, equipment rental, or new/used sales by contacting us here.
Difficult times define us, and we want to thank and assist those front-line Businesses and Employees in their tireless efforts to fill the demands currently placed on the supply chain on so many different fronts. To those of you who have already been directly impacted by the virus, we are thinking of you. To those of you diligently manufacturing, stocking, distributing, and retailing, we are here to aid you in getting your essential job done.
Sincerely,

The Management Team
Mid Columbia Forklift, Inc. and MidCo Material Handling