Product Review: Hangcha Lithium-ion Light Duty Walkie Pallet Jack
by Trey Barber, on July 29, 2022 at 10:47 AM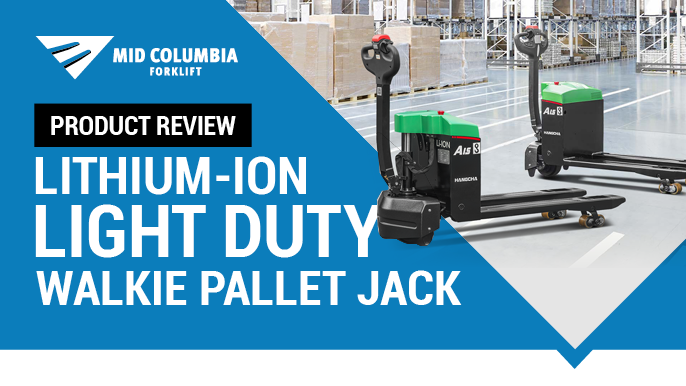 If you're in the market for a new electric walkie pallet jack look no further than the all new Hangcha WP15 Li Jack. It has the power you crave with the maneuverability your work space actually needs. Here are the specs, along with some pro and cons, for this new Hangcha WP15 Li Jack.
Product Name: Hangcha WP15 Li Jack
Manufacturer: Hangcha
Interesting Features: The Li-ion fully-rechargable battery offers optimum daily performance and is long-lasting between charges. These batteries require virtually no maintenance too - a HUGE money saver!
Lift Capacity: 3,000

Notable features:
Two-speed control, poly wheels, supporting caster wheels, 11-pound removable battery, battery displacement indicator with hour meter, 120v external charger. 1-year 2,000hr machine warranty, 2-year 4,000 hr. battery warranty.
Price Range: Starting at $2,999.
Value for the money: Excellent.
Best for: Warehouse floors with tight spaces of operation. Anywhere forklifts are challenging to maneuver, but where you must move pallets regularly.

Not recommended for: Moving loads too big for capacity or large warehouse operations where travel time for loads is too lengthy.

Key Features: Horn, emergency reverse button, LCD screen, battery indicator with hour meter, error code display, recharge alert, permanent magnet drive motor, CURTIS permanent magnet controller, emergency switch, multi-function battery indicator, 48"mm fork length, 27"mm outside fork width, electronic lifting limitation, non-contact proximity switch, till made by REMA, maintenance free battery, internal charger, walking upright, guide device, caster wheel.

Ergonomic Features: Multi-function, ergonomic handle with brake.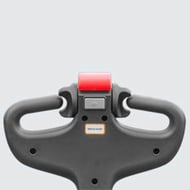 Optional Equipment: Single PU wheel, double PU wheel, protection cover, manual lifting/lowering (quick lift), fast charger (2-hour charge).
Pros:
Efficient
Lightweight
Easy and inexpensive to maintain
Cost-effective
Can maneuver in small spaces
Phenomenal battery life
Cons:
Smaller lift capacity compared to forklifts
Potential operator fatigue, compared to a stacker or rider.
Benefits Of Walkie Pallet Trucks
Minimal Disruption: With walkies, you can quickly get stock from your backroom to the sales floor without disrupting customer service. They are narrow enough that people won't notice them when putting out new items during open hours - this is perfect for a store with minimal staff who needs everything done in order!
Increased Productivity: Walkie pallet trucks allow for greater efficiency as you can move larger, heavier boxes back and forth instead of having to carry smaller loads by hand.
Safe: With a walking pace, the pallet jack is not going fast enough to be an issue for customers or staff.
Great for Tight Spaces: Walkies are perfect for navigating tight corners and aisles in your backroom or any other small space.
Affordable: The Hangcha walkie pallets are the best-priced models in this industry, which makes them affordable for any budget.
Industries That Can Benefit From Walkie Pallet Jacks
Many different types of industries will benefit from using pallet jacks including:
Retail Locations
Grocery Stores
Food Processing Industry
Warehouses
Manufacturing
Construction
To explore investing in a new HANGCHA WP15 Li Jack today, ask an expert from Midco. We offer electric pallet solutions that will exceed all of your warehouse needs.
Looking for a hand pallet jack? Click to check out our specials.

Get a quote today. You can also reach out directly to our dealerships by phone:
Auburn 253-854-5438
Pasco 509-547-7413
Wenatchee 509-663-9009
Yakima 509-457-5137

For Further Reading:
Choosing Your Pallet Jack: Manual or Electric
4 Reasons You Need An Electric Walkie Pallet Jack
Polyurethane or Nylon Pallet Jack Wheels: Which Do I Need?