Choosing Your Pallet Jack: Manual or Electric
by Kim McDowell, on February 28, 2020 at 9:00 AM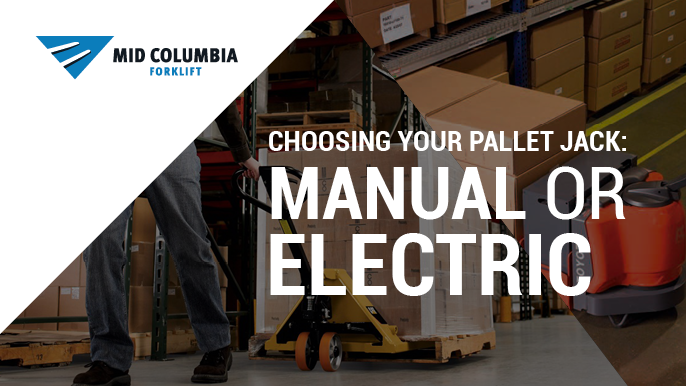 Material handling equipment selection goes beyond forklifts and other large machinery. Choosing between a manual hand pallet jack and an electric pallet jack can be a difficult process. Determining what configuration best fits your needs is key for right-sizing your fleet and maximizing productivity.
Hand Pallet Jack Pros and Cons
Hand pallet jacks are reliable, standard equipment present in stores and warehouses worldwide. These affordable equipment pieces are simple to use and are essential for unloading pallets of product and moving them through stores. The advantages and disadvantages of traditional hand pallet jacks include:
Hand Pallet Jack Pros
Affordable, entry-level equipment

Very low maintenance

Simple to train and operate

Smooth operation protects product

Versatile use for many pallet configurations
Hand Pallet Jack Cons
Can cause strains or overuse injuries over time

Take more effort to operate than electric options

Lower weight limits due to manual nature
Overall, hand pallet jacks present a versatile, easy-to-use option for light duty material handling operations. They are strong options for consumer goods stores and similar businesses.
Electric Pallet Jack Pros and Cons
Electric pallet jacks are similar in design and function to hand pallet jacks, but they are powered by electric AC motors. Certain configurations allow operators to ride on the equipment for comfort and reduced operator effort across longer trips. More customizations allow for increased lift capacity and increased overall load capacity.
Electric Pallet Jack Pros
Reduced risk of employee strains or injuries

Light, medium, and heavy-duty configurations meet multiple needs

Greater operating distance for larger operations

Faster movement speed

Built-in safety features included
Electric Pallet Jack Cons
Higher cost to acquire compared to manual pallet jacks

Batteries require watering, charging, and maintenance (depending on model)

More expensive to maintain

More training required for safe operation
From moving heavier loads of product to reducing operator strain, electric pallet jacks are strong options for higher volume operations with large footprints. Their ergonomic benefits can help increase employee satisfaction and productivity.
If you're trying to decide between electric and manual pallet jack configurations for your business, we can help. The material handling professionals at Mid-Columbia Forklift and MidCo Material Handling will talk through your goals and challenges to make sure we understand your business before making any equipment recommendations. Contact us here to get the conversation started and see what models we have in stock.
Further Reading
Rent Vs. Buy - Do You Know The Magic Number?
New Material Handling Equipment
4 Reasons You Need an Electric Walkie Pallet Jack