4 Reasons You Need an Electric Walkie Pallet Jack
by Dana Bowen, on November 21, 2019 at 6:00 AM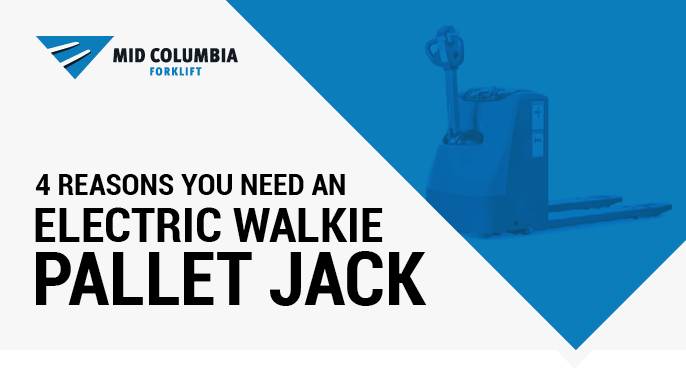 It's a common misconception that a standard hand pallet jack is just as effective as an electric walkie pallet jack. While not as heavy-duty as a forklift, adding the right electric walkie to your fleet lineup can drastically improve your business operations. Here are four reasons you should consider adding an electric walkie to your fleet:
1. Electric Walkies Improve Throughput
An electric walkie can improve your business's productivity drastically. The right product and plan can even replace the work function of several hand pallet jacks. Thanks to the increased hauling capacity, powered speed, ergonomics, and safety features of an electric walkie, you can move more products further faster. That efficiency translates into more effective business and an improved bottom line.
2. Benefits of Electric Power
Beyond the work performance of a powered walkie, electric power can create secondary value for your business operation and worker health. By reducing fumes and noise emissions, your work environment is improved by reducing health hazards. The quieter operation means less distraction for workers to improve awareness and safety.
3. Electric Walkies are Budget Friendly
Rightsizing your equipment is essential to reducing your operating costs. While a sit-down forklift boasts more power, speed, and capacity than an electric walkie pallet jack, the total cost of ownership is not effective if you're not putting all of that power to work. Reducing the initial cash outlay, reducing maintenance costs, and the overall operational costs of recharging a walkie vs. refueling a forklift can make walkies an attractive option for small and mid-sized business operations. Especially if stacking isn't required, a walkie can create significant value for business operations. Lower volume operations can even opt for specialized equipment such as a walkie stacker to meet their needs.
4. Improved Ergonomics and Safety Features
It's not just the businesses that benefit from applying an electric walkie. The improved ergonomics and design features vs a traditional hand pallet jack can reduce the risk of operator strain or errors due to fatigue. An integrated safety horn and anti-rollback features further protect operators and workspaces from potential harm.

When coupled with the right operator safety training program, an electric walkie pallet jack can improve a business' performance drastically. Mid Columbia Forklift has the equipment you need in-stock and ready for delivery. Contact us today to add the walkies, stackers, and forklifts you need to keep your business effective and your operators safe.
Further Reading:
Features and Application of WPX45 Clark Walkie-Pallet-Stacker
Material Handling Operator Training
Clark Forklift Models for Sale