Factory Cat GTR: Heavy Duty Industrial Floor Cleaning Machine
by Dan Elliott, on November 8, 2021 at 9:49 AM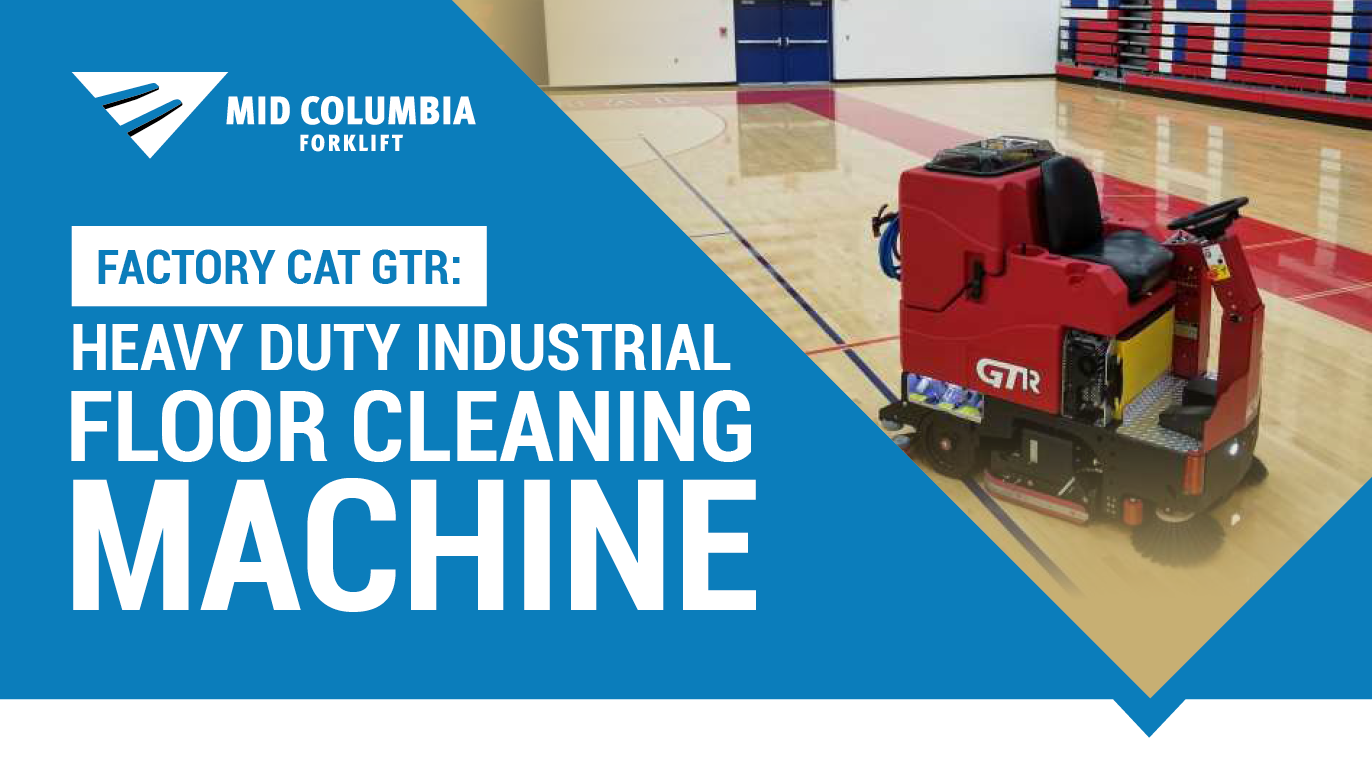 Made in the USA, Factory Cat has been hand-building the highest-quality, most durable floor scrubbers on the market since 1986.
The Factory Cat GTR is one of the larger ride-on scrubbers and offers operators a high - level of productivity with features like an extra-wide scrubbing width and high-capacity tanks while still maintaining a compact footprint.
Optional extras like dual side brooms and LED lighting systems help make this value-filled package even more compelling.

Factory Cat GTR:
Overview
Standard Features: 46 Gallon Cleaning Tank, 46 Gallon Recovery Tank, 37" Cleaning Path, See-Through Lid, Stainless Steel Squeegee, All Steel Frame, Baffle System, Large Debris Catch Tank, Heavy Duty Poly Wall Rollers, and Easy Service Cabinet.
Options & Upgrades: Touchscreen Interface, Deck Style, Brush Style, Anti-Microbial Tanks, Scrub and Vac Wand, Dual Side Brooms, Heavy Duty Side Doors, Overhead Guard, Non - Marking Tires, and Lighting Systems.
Price Range: Starting at $19,000
Value for Price: High-value quotient due to productive feature set.
Best For: Mid-size warehouses/distribution centers, sports arenas, aviation, hospitality, and any other mid-size format applications have a mixture of open areas and narrow passageways or elevators.
Not Recommended For: Tight space restricted applications.
Specifications:
Product Name: Factory Cat GTR
Manufacturer: Factory Cat
Dimensions (L x W x H): 62 x 32 x 57 in
Weight (w/o batteries): 755 - 805 lbs
System Voltage: 36 VDC
Standard Battery: 245 ah WET
Power: 0.75hp
Tank Material: Poly 3/8
Working Speed: 2.9 MPH
Cleaning Capacity:
(Theoretical) 51,000 Square Feet Per Hour
(Practical) 23,627 Square Feet Per Hour
Factory Cat GTR Pros and Cons

Pros:
High capacity and wide cleaning width without resorting to a larger footprint can make navigating tight spaces like passageways or elevators a challenge.

High capacity tanks allow for more work to get done without dumping.

Perfect for applications that combine open areas with narrow elevators or entrance ways.

Optional extras like dual dust brooms and anti-microbial tanks further enhance the value quotient for the Factory Cat GTR.
Cons:
The GTR may be too large for the tightest environments
Outperforming The Competition: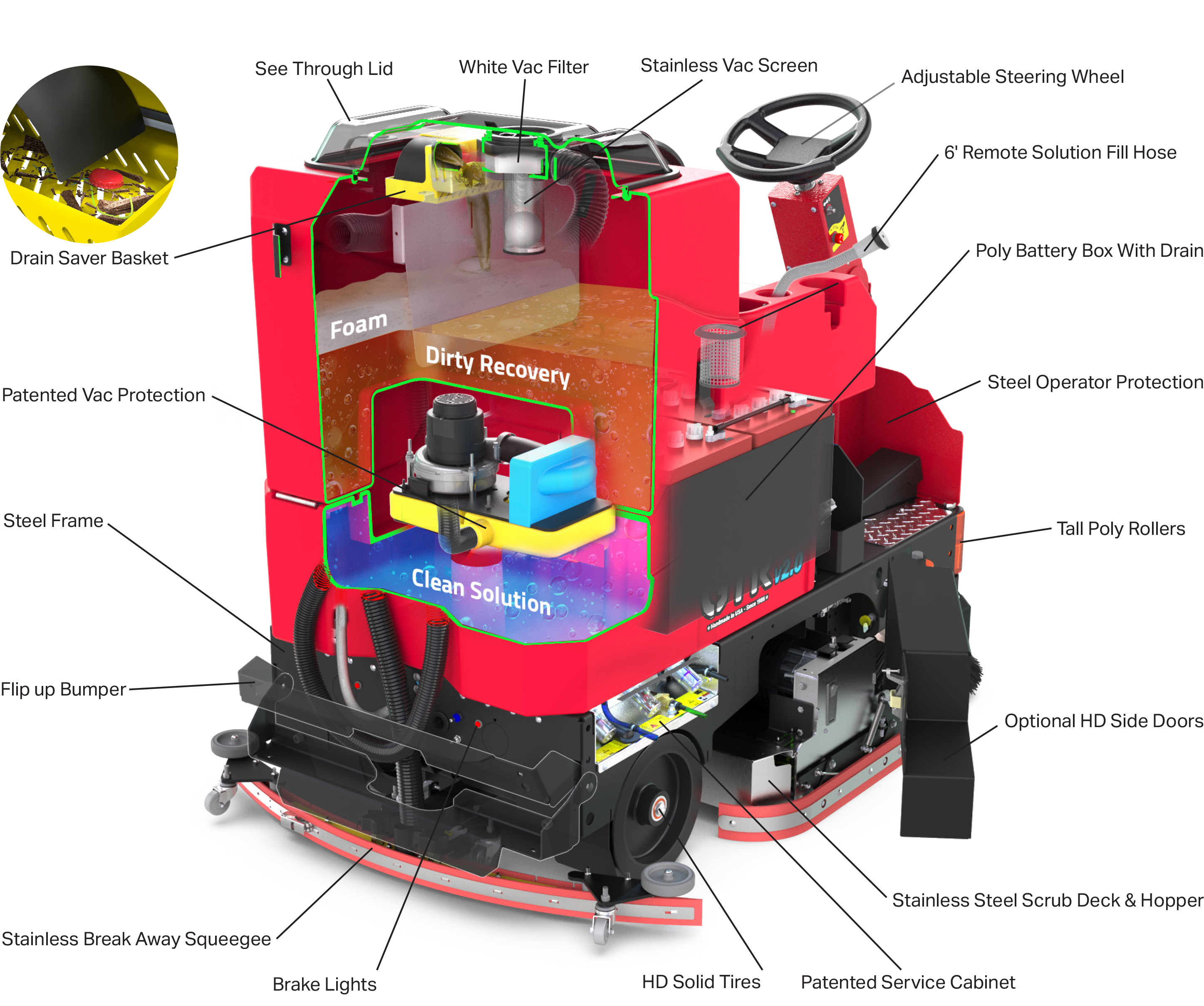 Factory Cat is known for producing high-value machines built in the USA of quality components. The all-steel chassis and stainless break-away squeegee fulfill the promise of long-term durability while HD solid rubber tires and HD rollers ensure that the GTR can handle the harshest environments. A solid five hours of run time and a massive 46 gallon clean / 49 gallon dirty tanks work along with one of the highest horsepower motors in the class to make quick work of even the toughest messes.
If you're committed to a cleaning plan because you know a tidy warehouse prevents accidents, reduces product damage, and improve morale then check out how the GTR leads the way with smart features that make day to day operation seamless and easy:
Easy Service Cabinet- Easily maintain the GTR with six different features all located in one convenient location.


Drain Saver Basket: To save your floor drains from large debris the GTR includes a Drain Saver Basket that's easy to remove and dump.
Dirty Tank Full Indicator: An easy-to-see red light tells the operator when the recovery tank is full, reducing time spent off the machine.
Easy Fill system: Fill the clean tank with either a standard sink adapter or fill with a bucket through the standard stainless steel screen.
An Easy Choice
Ready to be customized for the toughest applications in the most demanding environments, the Factory Cat GTR is the perfect floor scrubber for large distribution centers, sports arenas, or aviation hangars. Its ultra-wide, 37-inch deck allows for cleaning capacities of up anywhere from 21,000 to 51,000 square feet per hour but is still compact enough to fit into a freight elevator or narrow passageway. Available with additional productivity-boosting features like dual brooms, and an antimicrobial tank; the Factory Cat GTR is an investment in the future of your business.

Want to see how the Factory Cat Scrubber lineup fits into your operation? Talk to the Factory Cat experts at Mid-Columbia Forklift and MidCo Material Handling. Our team of experts are here to help you determine which Factory Cat scrubber is the right decision for your business.
Auburn 253-854-5438
Pasco 509-547-7413
Wenatchee 509-663-9009
Yakima 509-457-5137
Further reading: