Product Review: Doosan DV 250S-7 Forklift
by Trey Barber, on November 14, 2022 at 10:50 AM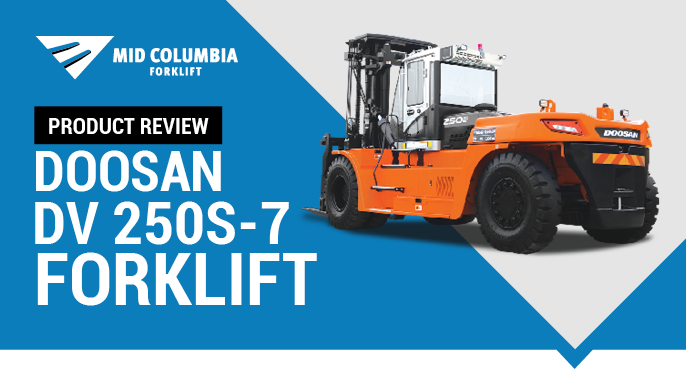 Some jobs need more than the average. Some require a forklift built to haul the heaviest loads all day and never complain. Those jobs need a Doosan DV 250S-7.
The Mid-Columbia Forklift experts review the Doosan DV 250S-7 forklift, the pros and cons of ownership, and the features that make it such a remarkable industrial vehicle. Read on to find out what makes the Doosan DV 250S-7 a powerhouse.
DV 250 Overview

The DV 250 is an exceptional forklift built with heavy lifting and constant use in mind. It has a load capacity well above the average forklift and a design that prioritizes durability and fuel efficiency.
While the DV 250S-7 boasts a wide variety of impressive features, there are 3 that really stand out:
High-performance engine. The DV 250S-7 features a fuel-efficient 7.6-liter DL08 engine, easily one of the most powerful ever produced by Doosan. It meets all Tier 3 legislation requirements for exhaust emissions and has already proved itself in Doosan's heavy-duty construction line.
State-of-the-art cabin. The Zeus Cabin's design maximizes operator comfort, control, and safety. It also auto-tilts and locks at 65 degrees to allow easy service access to critical drivetrain components.
Top-of-the-line load-sensing hydraulics. The load detection system modulates power supplied to the drivetrain depending on the weight of the load. This makes the forklift more energy efficient, improves traveling comfort, and extends the life of both the engine and hydraulic system.
Best For:
The DV 250S-7 is a beast. It's designed for heavy-lifting jobs with extended hours. It performs best in environments like docks, shipyards, agricultural centers, and industrial facilities.
Not Recommended For:
Indoor use.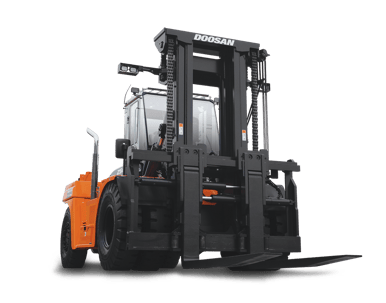 Specifications
Product Name: DV-250S-7
Manufacturer: Doosan
Lift Capacity: 25,000 kg (55,000 lbs)
Price Range: Starting at $400,000
Value for the Money: Excellent for its lift capacity
Pros
If you are looking for a heavy-duty forklift that can go the distance, the DV 250S-7 might be what you need. However, a few features put it ahead of the rest.
Key Features
The DV 250S-7 is built to be a true powerhouse. Each comes standards with a long list of high-performance features. These are some of the highlights.
Endurance drive axle. The drive axle incorporates a Kevlar disc and semi-permanent, heat-treated, oil-cooled brakes. These features extend the life of the axle. But they also make it more resistant to harsh environments while reducing maintenance costs.
Automatic 3-gear transmission. This smooth transmission is designed for heavy lifting. This design eliminates shocks and provides optimal power no matter the conditions. The transmission is cooled by a large-capacity cooler to maintain perfect operating temperatures all shift long.
Superior steering axle. The DV 250 features an I-beam steering axle for improved durability and stability.
Smart fan drive system. Onboard sensors control the cooling fan speed based on the temperature of the coolant and brake oil. This ensures neither system overheats. And it reduces energy use during low-weight operations.
Automatic hydraulic cutoff. A pressure sensor in the seat automatically disables hydraulic functions if the operator departs for more than 3 seconds. The hydraulics are also disabled if the engine stops.
Easy maintenance. The auto-tilting cabin, wide-angle hood, and easy-access steering axle grease inlet are just a few of the features that make the DV 250 so simple to maintain.
Integrated safety features. The DV 250S-7 comes standard with 10 working lights, LED side and braking lights, and wide, anti-slip steps.
All-in-one inching and braking. A button control on the brake pedal allows greater speed regulation. This lets the operator maneuver with precision while maintaining full lifting power.
Ergonomic Features
The DV 250S-7 puts a heavy focus on operator comfort. This prevents operator fatigue as well as stress injuries.
Temperature controls. The cabin has built-in temperature controls to keep the working environment comfortable year-round.
Noise and vibration reduction. The cabin's design reduces noise and vibration to protect the operator from injury.
Exquisitely comfortable seat. The operator's chair features a full-suspension system with a heated leather seat.
Adjustable steering wheel. The steering wheel is adjustable in four directions: up, down, forward, and backward. This nuanced feature allows the operator to find a comfortable position no matter their body type.
Natural-feel hydraulic control levers. The latest control levers with pilot buttons give the operator soft, precise control over forklift functions.
Optional Equipment
Though many impressive features come standard on the DV 250S-7, some upgrades further improve forklift performance.
Rear camera and monitor. An optional built-in camera in the rear of the forklift and an in-cabin full-color monitor allows the operator to reverse with ease. This handy feature improves safety and reduces collisions.
Onboard weighing scale. An electronic scale provides the operator with a seamless way to verify container weight.
Digital instrument panel. This LCD display shows engine RPM, transmission data, and the onboard scale readout if installed.
Alternate air compressor positioning. This handy design feature improves system cooling and elevates forklift performance when in service for extended periods.
Cons
While many points favor the Doosan DV 250S-7, there are a few downsides to owning this much machine.
Powerlifter. With the DV 250, think powerlifter instead of a gymnast. It is designed for loads that most forklifts cannot handle. And it has the bulk necessary for that job. It is agile for its design. But it is not designed to negotiate the narrow aisles of most warehouses.
Mast Height. Despite its size and power, the DV 250S-7 is very versatile. But you need to ensure the mast height and over-spec are matched to your application and job. One of our many experienced MidCo sales professionals can ensure both the mast and the truck is configured and maximized for your application.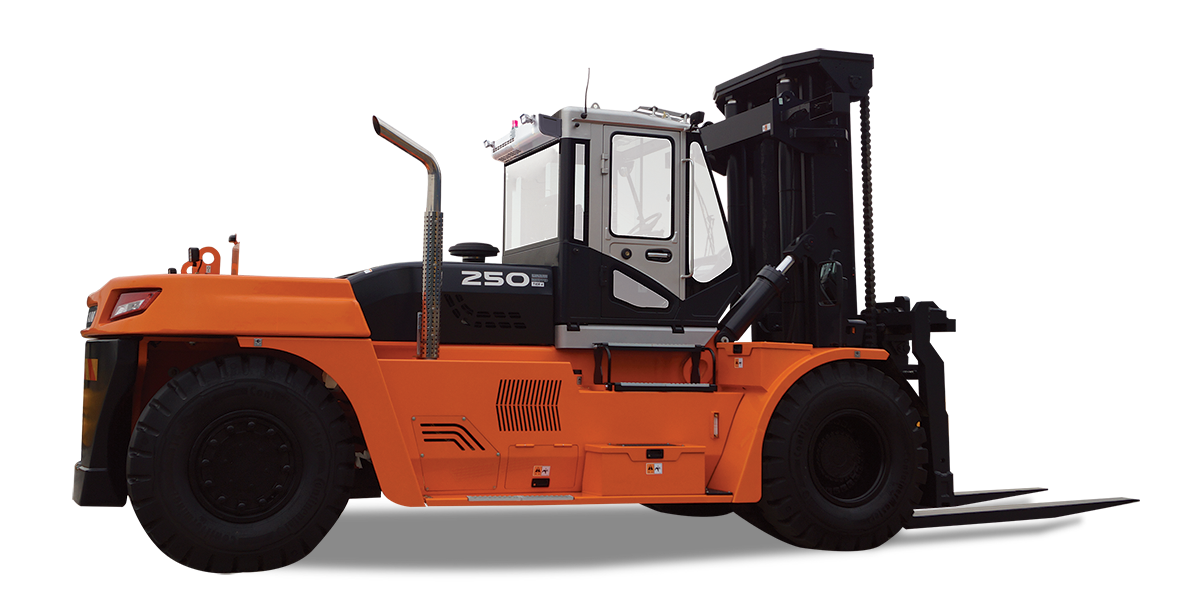 What to Take Away
The Doosan DV 250S-7 is a pure powerhouse. Its high-power, high-efficiency engine is designed to provide optimal power and keep running until the job is done. In addition, the Zeus Cabin ensures a safe, comfortable ride for the operator. And everything from the hydraulics to the transmission operates with fuel efficiency in mind.
If you are looking for a forklift that can handle some of the heaviest loads all day, every day, then the Doosan DV 250S-7 may be right for you. And if you need it now, the Doosan DV 250S-7 forklift is in stock for sale or rental. To request a quote, contact us online or reach out to one of our dealerships by phone:
Auburn 253-854-5438
Pasco 509-547-7413
Wenatchee 509-663-9009
Yakima 509-457-5137
Further Reading
How to Read a Forklift Load Capacity Chart
5 High-Quality Doosan Forklift Components
Common Forklift Operator Injuries and How to Prevent Them