Why The Seafood Industry Needs Doosan Forklifts
by Phil Hanford, on March 14, 2022 at 2:59 PM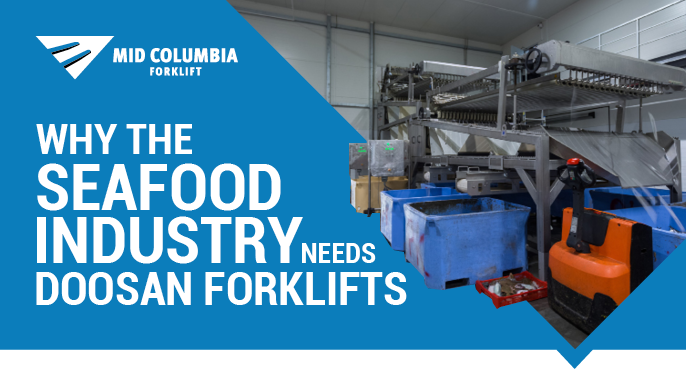 When you think of the seafood industry, forklifts probably aren't the first thing that comes to mind. However, this vibrant and growing industry has demanding applications that need reliable equipment. The seafood industry can count on Doosan's forklift lineup to overcome its challenging environments.
Seafood Industry Equipment Challenges
Much of the seafood industry takes place in remote locations off the coast of Alaska and the Pacific Northwest. The extreme temperatures, corrosion from seawater exposure, and extreme temperatures can make forklift maintenance and management difficult at best. Add to that the extreme temperatures of flash freezing, the need to reduce emissions around food products, and other challenges from seafood processing, and you have a recipe for maintenance headaches.
Most forklifts used in the seafood industry are shipped north on barges for six or more months of use. Getting a forklift technician out for emergency maintenance can be expensive, so maintaining a fleet of six to eight liquid propane (LP) forklifts and two or three electrics is key. Fish blood can cause significant damage to forklift tires, and fish oil can cause issues for internal components, so equipment must be washed down to keep them in working condition.
Doosan Forklifts For Seafood Applications
Doosan forklifts deliver the performance and dependability needed for seafood industry work. The 5,000-pound cushion or pneumatic tire models are great for operation in your plants. Barges and freezers often count on the 5,000-pound Doosan Electric Forklifts. Whatever your setting, Doosan forklifts are built to meet your needs.
Doosan's standard oil-cooled disc brakes ensure performance and reduce the risk of corrosion from seawater and other threats. Doosan's steer axles also feature double roller taper bearings that are more durable than competitors.
Midco's Special Seafood Rental Conditioning
The quality that Doosan is known for is why Mid-Columbia Forklift and MidCo Material Handling have made them the heart of our rental fleet. The seafood industry is a key area of focus, and we have developed special conditioning for our long-term seafood forklift rentals to help maintain performance day-in and day-out. Our seafood rental forklifts have dielectric grease applied to every connector to keep out moisture. We fabricate custom covers for our models to help protect interior components from wash-downs, so you can rest assured knowing your mechanical cleaning won't affect the electrical function of your forklift. We also use hydraulic oil designed for lower temperatures to ensure the cold won't affect your forklifts' performance.
Interested in adding custom Doosan's to your seafood operation? MidCo Material Handling has the new equipment and the rentals you need to succeed in the harshest of conditions. Contact us here to get the conversation started and see what equipment will deliver the highest performance for your business. You can also reach out to our dealerships by phone:
Auburn 253-854-5438
Pasco 509-547-7413
Wenatchee 509-663-9009
Yakima 509-457-5137
Further Reading:
5 High-Quality Doosan Forklift Components
Is a Doosan 3 Wheel or 4 Wheel Forklift Right For My Business?
Benefits of Oil Cooled Disc-Brakes for Your Forklift