5 High-Quality Doosan Forklift Components
by Ryan Oshman, on August 6, 2021 at 10:05 AM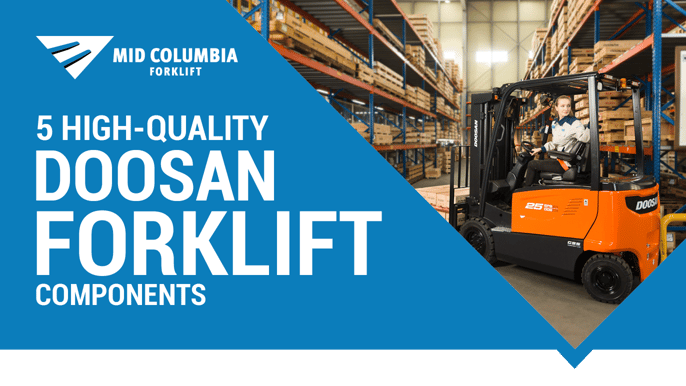 Doosan forklifts are known for dependable performance and high-quality construction. Intelligent engineering in forklift components creates that quality. Here are five standout components in Doosan forklifts.
Oil-Cooled Disc Brakes
Doosan's oil-cooled disc brakes are a valuable component. These upgraded brakes are more dependable than traditional brakes and can even stop in water. That performance makes them key for high-traffic businesses or those with lots of inclines to navigate. They also reduce maintenance costs. By sealing the brake component, external materials cannot cause damage to your brakes. The oil-cooling helps with wear and tear from friction and extended use. They also deliver more braking surface area. This allows the brakes to work more effectively over time. As a standard feature on most models, Doosan's oil-cooled disc brakes stand apart.
Rigid Drive Axle
Not all drive axles are created equal. Doosan is committed to quality through their equipment, including their rigid drive axle. To keep your forklift's front wheels turning through long shifts, this is designed to take heavy stress over long periods of time. This heavy-duty component boasts a durable cast iron housing. That construction can meet demanding workloads. They also reinforce the mast mounts to maintain stability in the forklift's front end. This makes lifting and driving with heavy loads safer and steadier. Doosan's drive axle design delivers dependable performance over time.
Doosan Forklift Mast
Forklift masts are one of the most critical parts of the forklift. Not only do they have to lift and lower thousands of pounds, forklift masts have to be easy to see around and through for operators. Doosan's engineers know they need durable, dependable, and operator-friendly designs. Their latest redesign for the 9-series delivers on these needs. The reinforced materials keep loads sturdy over longer service intervals, even at raised heights. And their high-visibility design helps keep operators more aware of their surroundings. All this means operators, products, and other workers are safer and more productive.

Operator Compartment
Operator convenience and comfort involve a lot more than their ability to see around or through a forklift mast. That's where Doosan's ergonomic operator compartment comes in. This updated design makes driving a Doosan forklift easier and more comfortable for long shifts. Featuring a comfortable chair, an easily used steering wheel, levers, and pedals, and a high-visibility overhead guard, the compartment keeps operators safe and comfortable. Uncomfortable forklift operators are tired and more likely to make mistakes. Comfortable designs keep your workers more effective through their shifts.
Operator Sensing System
Doosan's Operator Sensing System (OSS) helps keep operators, pedestrians, and products safer. This simple system means that a forklift will not move without an operator in the seat. Doosan's OSS also disables mast lift and lower functions as well as tilting. It also will sound an alarm if the operator leaves their seat without applying a parking brake. Finally, a seat belt warning light reminds operators to buckle up! Altogether, this system helps reduce avoidable errors.
Whether you're looking to source replacement Doosan parts or you want to add Doosan equipment to your forklift fleet, MidCo Material Handling has the stock and supplies you need. Contact us here to get the conversation started. You can also reach out directly to our dealerships by phone:
Auburn 253-854-5438
Pasco 509-547-7413
Wenatchee 509-663-9009
Yakima 509-457-5137