Where Are Doosan Forklifts Manufactured? Doosan Forklift FAQ
by Dan Bergman, on June 18, 2021 at 6:19 PM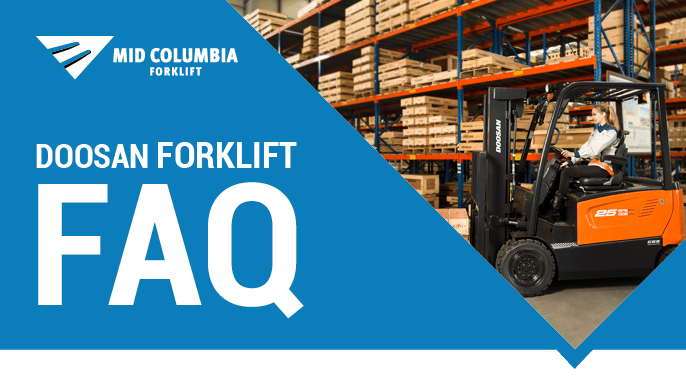 For years, the forklift market has been dominated by big names like Toyota, Hyster-Yale, and Crown. However, more brands are gaining traction in the market. Doosan isn't necessarily a new brand, but its popularity is growing in Washington and Oregon in particular. Here's what you need to know about this innovative forklift manufacturer.
Where are Doosan forklifts manufactured?
Doosan is an international company with forklifts manufactured in South Korea. All facilities are ISO 9001 certified. Doosan's US headquarters are located in Georgia and has an extensive network in the US.
What classes of forklift does Doosan make?
Doosan is a full line-up forklift manufacturer and provides equipment from Class 1 through Class 5. Their latest 9 series forklifts deliver 3,000 to 12,000 pounds of capacity for the IC cushion class 4.
What industries use Doosan forklifts?
Doosan is well known for producing dependable heavy duty forklifts from 3,000 pounds through 55,000 pound capacities. This diversity means they're right at home in warehouse, manufacturing, lumber yards, forging, big box stores, and dock to stock operations. Their models are readily available in rental fleets across the US, including major resources like Herc and United Rentals, as well as the Midco rental fleet.
What are Doosan forklifts known for?
Doosan forklifts have a reputation for dependable performance and intelligent engineering. Their heart of the line boasts Nissan Motors' GCT 2.5L engine that delivers strong lifting capacities through long shifts. Their steer pins and transmissions are also known for long lifelines and performance over time. This makes them key purchases for international customers like Coca-Cola, Purina, and GM.
Where can I buy a Doosan forklift in Washington state?
If you're looking to add Doosan to your forklift fleet,MidCo Material Handling has the stock and supplies you need. Contact us here to get the conversation started and see what models will best fit your needs. You can also reach out directly to our dealerships by phone:
Auburn 253-854-5438
Pasco 509-547-7413
Wenatchee 509-663-9009
Yakima 509-457-5137