4 Things To Love About Doosan's Redesigned D70S-9 Diesel Pneumatic Forklift
by Phil Hanford, on April 18, 2022 at 7:56 PM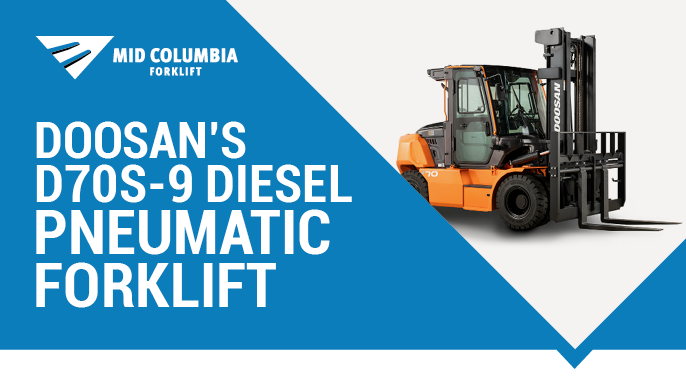 Doosan's redesigned D70S-9 rises above the competition for Washington businesses looking for heavy-duty forklifts. Boasting reliable Doosan power to lift up to 15,500 pounds and overall improved performance, this addition to the 9-series lineup is no slouch. Whether you're moving lumber, bricks and blocks, or other heavy materials, Doosan's updates make the D70S-9 worth considering.
Forklift Overview
Doosan Diesel Pneumatic Forklift D70S-9
Lift Capacity: 15,500
Height (Mast Lowered): 98.2"
1. Newly Designed Operator Cabin
Forging operations, lumber yards, and other demanding applications are not the most comfortable settings. With dust, extreme temperatures, and visibility challenges, operators experience many demands on their minds and bodies. Doosan's redesign features an enclosed operator cabin designed to increase operator comfort and protect their health. The cabin offers excellent visibility from all angles to reduce the risks of collisions. It also provides decreased noise levels, seals against dust and rain, heating and cooling, and other ergonomic design features to keep operators comfortable through their entire shift.
Other ergonomic design considerations, such as anti-slip step plates, centrally located switches, and an easy-to-read display panel, help reduce the risk of slips, strains, and sprains for operators. Overall, the cabin redesign will keep forklift operators more comfortable for long shifts.
2. Improved Productivity and Durability
Doosan is known for building reliable forklifts with powerful construction. The redesigned D70S-9 is no exception. This impressive machine is powered by Doosan's 3.4L DMOV engine, which delivers impressive diesel performance. Operators can choose three different performance modes to provide fuel efficiency, standard performance, or high power. Doosan's oil-cooled disc brakes and five-year/ 10,000-hour warranty come standard on the D70S-9. Finally, all electrical connectors are IP67 rated for dust- and waterproof in demanding outdoor settings. Specialty packages are available for anti-dust, foundry, and seaport settings to protect against even the most intense environments.
3. Lowered Total Costs of Ownership
All of that value doesn't translate into lost costs. Doosan's updated 9 series forklifts are economically effective for most businesses and have a lower total cost of ownership (TCO). Your business can save up to 71% over five years compared to other forklift OEMs thanks to:
Optimized planned maintenance intervals are less frequent thanks to the D70S-9's durable design.
Transmission, drive axle, and engine oil intervals have doubled in time between replacements compared to previous models.
Tool-free access panels and easy maintenance access points for faster maintenance work.
Increased fuel economy thanks to the innovative DMOV engine.
On-board diagnostics and planned maintenance notifications will inform you about upcoming maintenance or unexpected issues.
As with all forklift models, your TCO may vary by application and working hours. But Doosan's 9-series forklifts are designed with your cost of ownership and business impacts in mind.
4. Updated Safety Features
Doosan's D70S-9 is designed to protect your greatest asset - your people. Modern features such as the patented Guardian Stability System (GSS) help reduce the risk of tip-over incidents. An Operator Sensing System (OSS) comes integrated to make sure the forklift is operated safely by a trained professional. You can even program a forward and reverse speed limit to fit your needs and your business's comfort levels for operator safety. Combined with visibility improvements and other ergonomic considerations, the D70S-9 is one of the safest options on the market.
To learn more about the Doosan D70S-9 and see one in action, contact us. We can schedule a demo and help configure a model to fit your business needs. You can also reach out directly to our dealerships by phone:
Auburn 253-854-5438
Pasco 509-547-7413
Wenatchee 509-663-9009
Yakima 509-457-5137
Further Reading
Where Are Doosan Forklifts Manufactured? Doosan Forklift FAQ
How Forklift Oil-Cooled Disc Brakes Save You Money
Why The Seafood Industry Needs Doosan Forklifts