Walkie Stacker Rental - Our 3 Most Popular Options
by Dave Jensen, on June 26, 2020 at 3:30 PM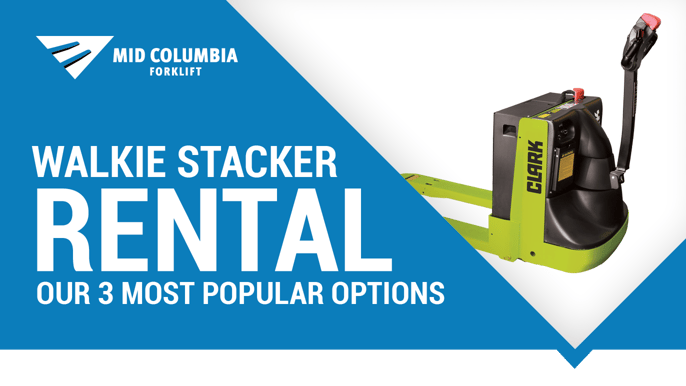 If you need something more powerful than a pallet jack, but smaller than a forklift, a walkie stacker might be the perfect piece of equipment for you. Walkie stackers allow employees to easily transport pallets of product horizontally and vertically. They're simple to use and ideal for small warehouses and storerooms.
Not sure if a walkie stacker is right for your operation? Try before you buy. We have a variety of walkie stackers for rent and can deliver your equipment fast anywhere in the Seattle area, Tri-Cities, Wenatchee or Yakima, Washington.
Read on to learn about our most popular walkie stacker rental options. Or, contact a material handling equipment expert who can help you choose the right equipment for your operation.
Straddle Stackers, Reach Stackers and Standard Walkie Stackers
A walkie stacker is (more or less) an electric pallet jack with a mast. We rent the three most common types of walkie stackers in addition to specialized equipment with a 2 or 3-stage mast.
Standard Walkie Stacker
A standard walkie stacker has fork-like legs in addition to forks that move up and down the mast. This means it can handle two pallets at the same time (one on the legs and another on the forks). If your staff is only using pallet jacks, a walkie stacker can double their productivity.
Walkie Straddle Stacker
This is the most common and most popular type of walkie stacker rental in Washington state. A walkie straddle stacker uses wide-set legs that "straddle" the pallet while the forks slide underneath.
Walkie Reach Stacker
A walkie reach stacker may be a better option (vs. a walkie straddle stacker) if your application requires frequent loading and unloading of trucks or trailers. In addition to lifting the load, walkie reach stackers can extend it forward (away from the operator) for easier loading in tight spaces.
Walkie Stacker Rental in Washington State
Whether you need to adjust to a sudden spike in business or want to try before you buy, renting material handling equipment is a smart option. Why invest in equipment that might not be a good fit for the long-term? Keep your options open by renting until you know you have the right equipment mix for your business needs.
Mid Columbia Forklift and MidCo Material Handling offers short-term, long-term, and rent-to-own options. All our rental equipment is inspected and maintained to ensure optimum performance. We're not satisfied until you are.
Contact us for more information. Connect with us online or by phone:

Auburn 253-854-5438
Pasco 509-547-7413
Wenatchee 509-663-9009
Yakima 509-457-5137
Further Reading
Small Forklift Rental Options
Rent Vs. Buy - Do You Know the Magic Number?