New High Capacity Li-ion Forklifts from Hangcha
by Trey Barber, on March 3, 2023 at 10:58 AM
Every once in a while, something comes along and changes the game. The airplane changed how we travel. The internet changed how we communicate. And the lithium-ion battery changed how we power our lives. Hangcha has taken that revolution one step further with their new high voltage, high capacity forklift, the XH series.
They've built on the success of their exclusive lithium iron phosphate battery to create an electric pneumatic forklift with 3 times the load capacity of their most powerful XC series forklift. This article will discuss all the innovations that came together for this next leap in forklift technology. Read on to learn all about the new Hangcha XH series heavy-duty forklift and how it will revolutionize your facility.
The Hangcha XH Series Is a Workhorse

It's no secret that lithium-ion technology has been an up-and-coming technology for years. Yet, some jobs have required more power than these batteries could manage. That left you only one option: expensive, maintenance-heavy internal combustion forklifts. Hangcha's XH series changes all that.
The XH series is a high-voltage pneumatic forklift powered by Hangcha's exclusive lithium iron phosphate battery. This battery chemistry provides consistent power over extended service. It can charge to 100% power within 1.5 hours and take advantage of opportunity charging without any loss in longevity. This efficient charging means your XH forklift can run for 3 shifts without swapping out the battery.
A Heavy-Duty Forklift for Serious Jobs
The XH series builds on innovation from the electric automobile industry to provide serious lifting power. The high voltage design allows it to lift loads up to 36,000 lbs. In addition, a heavy truck-grade water cooling system keeps the battery, electronic controller, and motor cool all shift long—even during high-intensity work. Meanwhile, the integrated battery management system ensures consistent lifting power throughout the workday. Collectively, these innovations allow the XH series to outperform comparable electric and IC forklifts.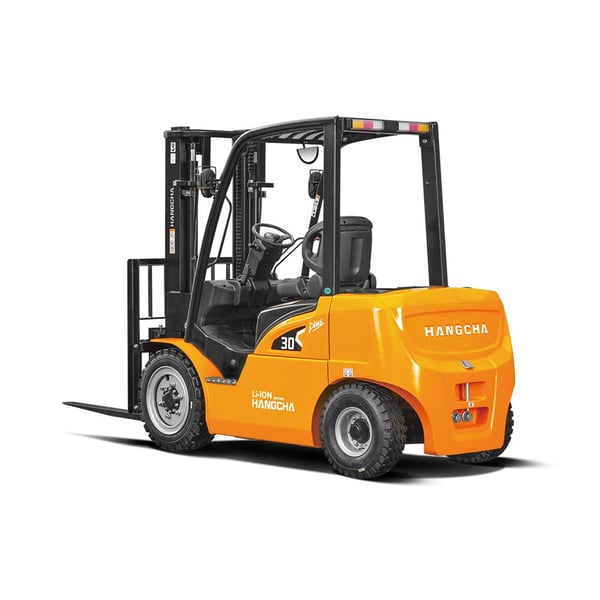 The XH Series Makes Maintenance a Breeze
One of the major problems with lead-acid batteries is the time needed to maintain them. Between watering, cleaning away corrosion, and equalizing the batteries, lead acid batteries are time-consuming to maintain and offer diminishing returns with each recharge cycle.
Lithium-ion batteries, however, are maintenance-free. And they maintain their power output throughout their up to 10-year lifespan. A decade of maintenance-free batteries will save you on labor costs and improve the satisfaction of your forklift operators, who no longer have to make time for tedious battery upkeep.
Despite the no-maintenance batteries, every machine has moving parts, and moving parts need service from time to time. To make preventative maintenance a breeze, the Hangcha XH series includes an electric tilting cylinder to pivot the entire cabin at a wide angle, providing your technician easy access to the XH's internal components.
The XH Offers Satisfaction at Every Level
The demands of your position influence what you value in a forklift. The XH is designed with every shareholder in mind. For the operator, it offers the full array of Hangcha's ergonomic and safety features. These include:
An adjustable suspension seat, steering column, and multi-directional armrests
A wide view mast for better line of sight
An easy-to-read multifunctional LCD instrument panel
A fully-suspended, waterproof, and dustproof cabin
A sealed cabin for noise reduction
Air conditioning and a heater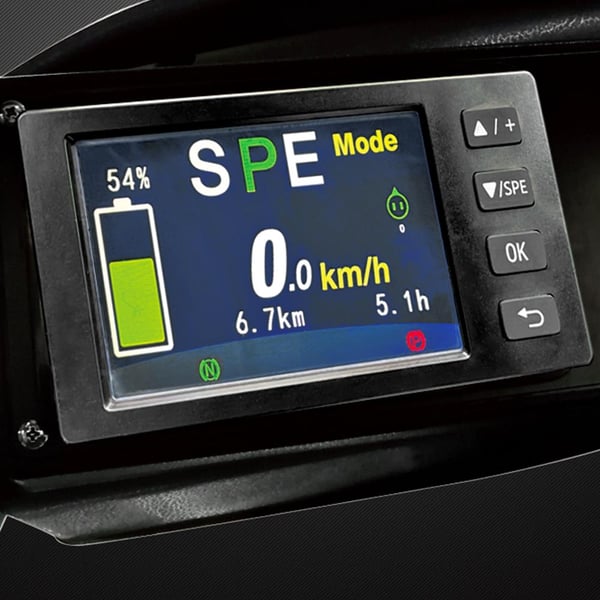 For the shift manager, who values reliability and safety, the XH comes standard with
An IPX4 water-resistance rating
IP67-rated high voltage components to seal out dust and water
A high-voltage interlock and insulation detection for improved safety
A one-click power-down MSD maintenance switch
Durable structural components
And for the management team, the XH series is a fiscal dream. Reduced maintenance needs, increased uptime, and rapid charging capabilities combine to make the XH series one of the most cost-effective heavy-duty forklifts on the market. In fact, the XH series can reduce your total cost of forklift ownership by up to 90% compared to similar IC forklifts.
Mid Columbia Forklift is Hangcha's Washington Dealer
Hangcha's XH series offers power and durability, making it an excellent choice for harsh operational environments like steel mills and ports. In addition, it produces zero emissions and low noise, making it a great option for any facility looking to hit its sustainability targets. And Hangcha's reputation for safety and reliability makes it the best choice to protect your workforce.
If you're ready to learn more about Hangcha's XH series high-voltage lithium-ion forklift, Mid Columbia Forklift is your best resource. Reach out to an expert online or at one of our Washington State locations.
Auburn 253-854-5438
Pasco 509-547-7413
Wenatchee 509-663-9009
Yakima 509-457-5137
Further Reading
Hangcha: All Your Frequently Asked Questions Answered
The Complete Guide To Getting and Maintaining a Li-ion Forklift Fleet
Product Review: Hangcha XC Series Electric Pneumatic Tire Forklift