7 Time-Saving Cleaning Tips for Food Processing Facilities
by Dan Elliott, on June 2, 2023 at 10:00 AM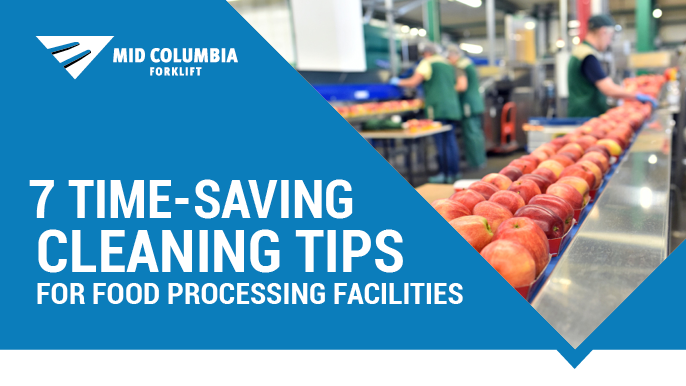 Labor accounts for up to 95% of cleaning costs. So when your facility needs to stay pristine for the health and safety of your customers, wasted time is wasted money. Sadly, there is no magic fix to save time when cleaning your food processing facility. However, there are some practices you can adopt to minimize wasted time while still getting an effective clean. Read on to learn 7 cleaning tips that save you time and money.
1. Create a Culture of Clean
The old adage "many hands make light work" should be your mantra if you want to save time on cleaning. Spread the cleaning work across the whole company by creating a culture of cleanliness. Everyone from the newest hire to the CEO can help keep the facility spotless. This starts with training every level of your organization on the importance of vigilant cleanliness.
After training, ensure all staff have access to the appropriate cleaning supplies for their role. Additionally, make sure they have gloves, hair nets, aprons, and any other coverings needed to avoid contamination. Finally, make a point to publicly recognize staff who excel at keeping their workspace clean and sanitary.
2. Keep Restrooms and Breakrooms Hygienic
Human bodies have needs that are not always sterile. Your staff will have to visit the restrooms and breakrooms throughout their workday. Sanitize these spaces often to ensure pathogens do not spread to the rest of your facility.
Consider investing in an industrial floor scrubber with a sanitation wand to clean walls and fixtures quickly. The FactoryCat Sanitation line is one example of these machines that maximize efficient cleaning of restrooms and breakrooms.
3. Sweep, Scrub, and Dry Floors All at Once
Traditional cleaning methods like a mop and bucket are horribly inefficient. They are both ineffective and slow when it comes to cleaning facility floors. Mops leave wet floors behind that become a breeding ground for bacteria and a slipping hazard for pedestrians.
On the other hand, sweeper scrubbers clean floors 4 times faster than a mop and bucket. Additionally, floor scrubbers use only fresh cleaning solution. This ensures bacteria, fungi, and viruses are killed as intended instead of simply spread around. The machine also collects used solution off the floor so that only dry, safe floors are left behind the operator.
An added perk of a floor scrubber's efficient cleaning is a steep reduction in labor costs. After all, if a floor takes a quarter of the time to clean, cleaning labor is reduced to 25% as well.
4. Eliminate Clutter
Clutter is the bane of any clean facility. Accumulations of boxes, pallets, or other unused items in processing areas become a haven for dust and contamination. Removing clutter reduces the surface area where contamination can spread and eliminates additional surfaces that need cleaning.
Also, clutter blocks aisle ways and creates patches of the floor that a floor scrubber cannot reach. This forces the operator to stop cleaning and move the obstruction before continuing. That additional task creates unnecessary delays in the cleaning process and increases your labor costs.
5. Consider Automation
When choosing an industrial floor scrubber, consider automated floor scrubbers like the Powerboss Scrubmaster AMR. Autonomous scrubbers allow one operator to clean multiple areas at once. The operator simply sets the Scrubmaster to run a pre-programmed cleaning route, and it does the rest. The operator is then free to clean other areas of the facility while the machine takes care of the floors.
Automated scrubbers are easy to program and adjust. They adapt readily to dynamic environments, and they clean consistently every time. That means you could have autonomous scrubbers operating throughout your facility to clean all shift long with only one operator needed to manage the fleet.
6. Choose Models That Kill All Pathogens
Today, facilities have to worry about more than just bacteria and mold. Viruses and prions pose a real threat to the cleanliness of a facility. To combat the full array of pathogens, look for floor scrubber models that use aqueous ozone to disinfect your floors, like the FactoryCat ZerO3 series. Aqueous ozone is a highly effective sanitizing agent that is also very safe to use.
7. Find the Right Equipment for Your Facility
Industrial cleaning equipment comes in a wide array of sizes with many standard and optional features. This can make selecting the right equipment for your facility a daunting process. Get started by downloading our free buyer's guide to learn more about the best features for your facility. Then contact us to set up an onsite demo of promising options.
If you still aren't sure which one will suit your facility best or if you only need a scrubber for a short time, take advantage of our rental fleet. Contact our experts online or at one of our Washington State locations to get started.
Please reach out to us online or by phone to get the conversation started:

Auburn 253-854-5438
Pasco 509-547-7413
Wenatchee 509-663-9009
Yakima 509-457-5137

Further Reading:
Industrial Cleaning Equipment Is The Only Way to Get Clean Floors
Choose the Best Industrial Floor Scrubber for Your Operation
Clean and Sanitize Your Floors with FactoryCat ZerO3 Floor Scrubbers