5 Forklift Operator Bad Habits It's Time to Break
by Phil Hanford, on April 22, 2022 at 3:30 PM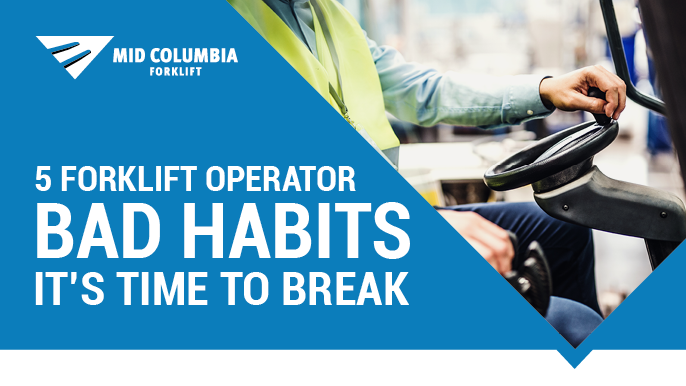 Forklifts are essential for moving goods in your warehouse. But they're also the source of a staggering number of injuries and even fatalities each year.
In 2020 alone there were 78 fatal injuries and 7,290 nonfatal incidents reported in the United States.
If you're wondering what you can do to help keep this number lower, we've got a few suggestions on what to look out for and what bad habits your forklift drivers may need to break.
1. Lack of Certification or Training
This first one isn't necessarily a habit but we feel the need to emphasize that anybody operating a forklift must be certified. There are no exceptions and this is something that should be important to the entire team, management and associates alike.
Preventing injury and increasing efficiency are always key objectives for running a warehouse. Failing to certify all potential forklift operators jeopardizes employee safety and the company's reputation. OSHA violations leave lasting impressions and come with hefty price tags.
More importantly, you don't want your team to get injured on account of a lack of training, especially when so many forklift injuries lead to long-term, life-changing consequences.
Forklift certifications are good for three years (without incident), so it's also important to make sure that your team members are getting recertified as necessary.
2. Unsafe Loading
Any operation of the forklift that deviates from its intended use is dangerous.
For example, loads are not meant to be balanced on a single fork and forks are not meant to be used as makeshift aerial lifts. If your warehouse is in need of a scissor lift or vertical mast lift, we have them available to buy or rent.
It is important to emphasize to your personnel that any unsuitable handling of equipment should be stopped immediately and reported shortly thereafter. Holding themselves and each other accountable makes for a safer workplace.
3. Failure to Use Safety Checklists
The mere presence of a checklist does not make forklift operation safer. Thoroughly completing safety checks does.
This ensures that the equipment is functioning properly, which is crucial to its efficient operation, as well as functioning safely.
Each checklist should have clearly defined cues explaining how to recognize what's normal and what the red flags are. Team members should be encouraged to speak up if they have any doubt or if they are unclear on the checklist.
For this, it's ideal to have seasoned forklift operators who can help newer or less experienced operators with the finer details.
4. Speeding
Team members want to get things done and there's nothing more understandable than that. But this can create an unsafe work environment.
We're talking about speed in two different ways: speed of the forklift and speed of completing tasks.
Sure, forklifts top out at maybe 18 mph, which sounds like nothing compared to what even an average car can do. But a speed like that in a tight space, whether it's a warehouse full of product or employees, is an incident waiting to happen.
Just because someone can drive a forklift fast doesn't mean they should.
Likewise, when team members get so focused on completing their tasks quickly, it could lead to trouble when they lose sight of doing things safely, as well.
This doesn't mean you should necessarily discourage anybody from working fast, just that it should never come with the compromise of their (or anybody else's) safety.
5. Lack or Loss of Awareness
Team members need to be always aware of their surroundings, yes.
But this is especially true when operating a forklift.
What's interesting is that you can have the first four points covered and this lack of awareness can lead to an accident. In other words, you can have someone trained and certified, who loads the forklift safely, thoroughly completes their safety checklist, and drives at a reasonable speed.
Someone who does all these things but is not fully aware of their surroundings might turn too quickly, get caught around a corner, fail to look behind while backing up, or fail to signal (no matter who is or isn't around).
You can help prevent this by ensuring personnel are not fatigued but also by, once again, having a clear set of rules. In it, you can outline that looking behind while backing up is required, just like turn signals.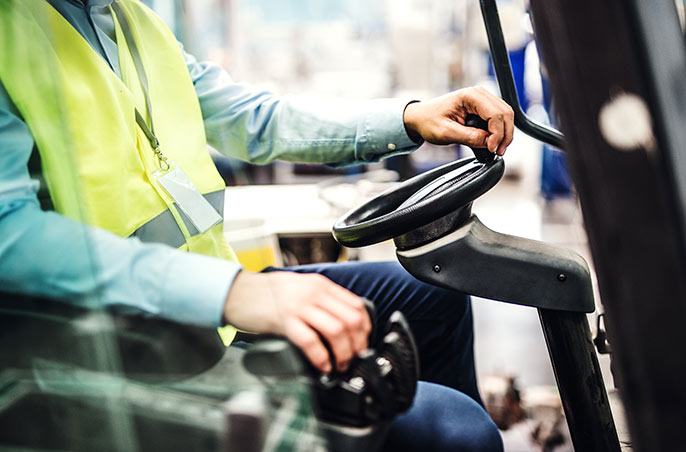 Need Forklift Training for Your Team?
Our experts are happy to provide operator safety classes and certification to ensure compliance at your facility.
Covering everything from classroom knowledge to hands-on experience, your teams can operate more safely and efficiently as we cover:
Best practices for safe operation
Working knowledge of capacity and load center
The importance of daily walk-arounds
Hands-on operation experience
Contact us online or by phone today to schedule or learn more about your next forklift operator training session.
Auburn 253-854-5438
Pasco 509-547-7413
Wenatchee 509-663-9009
Yakima 509-457-5137
Further Reading
Common Forklift Operator Injuries and How to Prevent Them
Forklift Operator Training for OSHA Compliance
4 Ways to Improve Forklift Efficiency