Why You Should Invest In Doosan Electric Forklifts
by Phil Hanford, on April 29, 2022 at 5:21 PM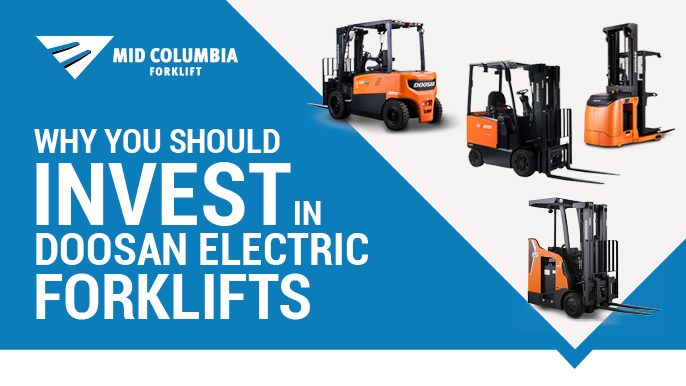 Right now is the perfect time to update your forklift fleet to electric. Doosan electric forklifts offer superior performance, enhanced safety features, and outstanding productivity while keeping your forklifts operators comfortable all day long.
The past few years have brought many improvements to electric forklifts and have made them an excellent investment for your company. With lower maintenance and fuel costs compared to their internal combustion (IC) counterparts, Doosan electric forklifts are the perfect solution to keep your crew productive while lowering ongoing costs for your business.
Doosan electric trucks are sleek and stylish while offering superior performance compared to their IC counterparts. For a fraction of the maintenance costs compared to IC units, these electric forklifts are the best investment you can make in your business right now.
Making the switch to electric trucks offers your operation the following benefits:
Highly Reduced Fuel and Maintenance Costs: Electric forklifts free your operation from being beholden to the craziness of fuel costs in this economy, saving you thousands of dollars annually. Try out the Electric Power Research Institute's calculator to see what you can save on fuel and maintenance costs by investing in a fleet of electric trucks.
Improved Warehouse Air Quality: If you're running IC forklifts in your warehouse, you're releasing harmful fumes in the air for your crew to breathe while they work. Operating electric forklifts can improve the warehouse air quality for your entire team.
Maximum Uptime and Extended Value: Doosan electric forklifts can operate indoors and outdoors and work hard for you all day. The reliability and versatility of these trucks will boost worker productivity while saving you money.
Here's an overview of the Doosan Electric Forklift line, available from Mid-Columbia Forklift:
1. Doosan 9 Series - High-Level Order Picker
Doosan's 9 Series High-Level Electric Order Picker combines innovative safety features, superior performance, and thoughtful ergonomics, making your warehouse operation safer and more efficient. This Doosan electric stand-up rider offers unparalleled operator comfort, superior productivity, and advanced safety features. Some of the available features on this Doosan electric forklift include:
3,000 lb. Capacity
Low Step Height
Backrest and Knee Padding
Bright and Intuitive Display
Floor Plate Suspension
Excellent Operator Visibility
Automatic Speed Control
LED Lights
Durable AC Drive and Hydraulics
Simple to Maintain
2. Doosan 7 Series Pneumatic Four Wheel - 80 Volt electric forklifts
Doosan's 7 Series Pneumatic Four Wheel electric forklifts combine the industry-leading safety features you trust while offering superior performance and an ergonomically designed operator compartment, making your warehouse operation safer, more efficient, and more productive. Some of the standard features on this Doosan electric pneumatic four-wheel forklift include:
4,500 lb - 10,000 lb capacity
Ergonomic Pedal System
Emergency Shut Off
Doosan Operating Sensing System
Doosan Guardian Stability System
Turtle Mode
Easy Access to Maintenance Items
5-Year/10,000 Hour OCDB Brake Warranty
Reliable AC Controller
Rugged and Durable Twin Drive Units
3. Doosan 9 Series Forklifts - Cushion Electric Stand-Up Rider
Doosan's 9 Series Cushion Electric Stand-Up Rider forklifts combine operator comfort, advanced safety features, and superior performance to your warehouse crew. This Doosan Electric Stand-Up Rider works hard for you so you can be more productive and run a safer warehouse operation. Standard features include:
3,000 lb to 4,000 lb capacity
Low Step Height
Backrest and Knee Padding
Easy and Instinctive Display
Unlimited Ramp-Hold
Automatic Speed Control
Auto Parking Brake
Emergency Stop Switch
Guardian Stability System (GSS)
LED Lights
Operator Sensing System (OSS)
4. Doosan 7 Series Cushion Four Wheel Forklift
Doosan's 7 Series Cushion Four Wheel Electric Trucks follow their standards of delivering efficient, reliable forklifts while offering the best value for your business. These are serious workhorses for a serious warehouse crew. Some of the standard features on this Doosan electric forklift include:
4,000 lb to 6,500 lb capacity
Fully Customizable Work Area
Hydraulic Levers
Cornering Speed Control
Operator Sensing System
Guardian Stability System
Unlimited Ramp-Hold
Turtle Mode
Easy and Intuitive Instrument Panel
Outdoor Operations
To explore investing in a new fleet of Doosan electric forklifts today, ask an expert from Midco. We offer electric truck solutions that will exceed all of your warehouse needs. You can also reach out directly to our dealerships by phone:
Auburn 253-854-5438
Pasco 509-547-7413
Wenatchee 509-663-9009
Yakima 509-457-5137
Further Reading:
Where Are Doosan Forklifts Manufactured? Doosan Forklift FAQ
Doosan Forklift Review: How the 9 Series Stacks Up
Why The Seafood Industry Needs Doosan Forklifts