Where's My Material Handling Equipment? Lead Times Needed in 2022
by Phil Hanford, on June 10, 2022 at 2:48 PM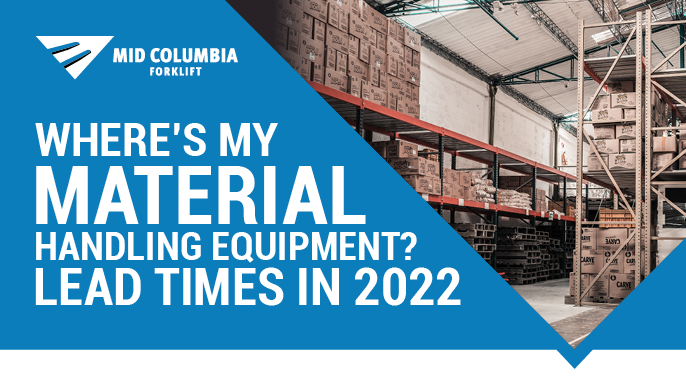 As a busy warehouse manager, you have a full plate every day. You're moving products in and out, managing a crew, and thinking about safety and efficiency in your warehouse. You're also dealing with supply chain disruptions causing delays for customers. Tasks like routine maintenance scheduling and product forecasting can often get shoved to the back burner when work is busy.
The Importance of Planning Ahead
Here at Midco, we're also actively working through the major product supply and supply chain disruptions. We're encouraging all of our clients to take pre-planning their lead times for material handling purchases and maintenance seriously right now.
We know you're busy, but that's why we're here, to lighten your load. We can help you put together a comprehensive pre-planning master calendar so your crew can stay on top of all of the warehouse activity coming your way this year and next. Material handling products and services are backlogged everywhere. Having a plan in place for the next 18 months of equipment servicing and product purchasing forecasting is a must right now if you want to avoid costly downtime.
"By failing to prepare you are preparing to fail."
- Benjamin Franklin
Pre-Planning Master Calendar: Look 12-18 Months Ahead
We can help you map your purchases to manage lead times and serve you and your business into 2023. We recommend you forecast the next 12-18 months if you plan on buying, or installing any of the following in your warehouse:
New forklifts
Used Forklifts
Forklift Rental
Scrubber/Sweepers
Propane tanks for IC forklifts
Pallet Racking
Pallet Rack Installation
Dock & Door Installation Repair and Preventative Maintenance
Forklift Service and Preventive Maintenance
Mapping out your material handling needs will decrease the chances of getting caught flat-footed waiting on a new forklift or a servicing or installation crew.
Pre-planning is crucial to managing your material handling needs right now. We put together the information below to give you an idea of some of the disruptions we're dealing with currently. You should assume everything on this list will have a significant backlog or wait time.
Realistic Lead Times - June 2022
New Forklifts: 6-18 months for both IC and electric forklifts (limited electric forklifts have shorter lead times). Plan ahead. Place orders now especially for IC Products.
Used Forklifts: Almost non-existent at this point. Nearly impossible to find. Don't count on them for 12 to 18 months.
Rentals: 6-12 month pre-planning time. Very difficult to secure right now with less than 6 months of planning.
Electric Forklift Batteries: Planning is essential. Lead times are starting to creep out.
LP Forklift Propane Tanks: Sporadic inventory & lead times
Racking and Rack Installation: Parts are available, but installation crews are backlogged for months. 3-6 month lead time.
Service: Parts are in stock, but service crews are backlogged up to 30 days.
What's a Warehouse Manager to do?
Everything is about patience and planning. Don't let this get away from you. Falling behind could cost you money and keep you from the solutions you need to keep your business running smoothly.
Ask an expert today for help with creating a pre-planning master calendar for the next 12-18 months.
Remember the Boy Scout motto: Be Prepared. Ask an expert today to help you create an 18-month master calendar for your material handling needs. Contact us to pre-order new materials and trucks well in advance to keep things running smoothly in your warehouse.
Auburn 253-854-5438
Pasco 509-547-7413
Wenatchee 509-663-9009
Yakima 509-457-5137
Further Reading:
Keep These 5 Replacement Parts at the Ready for Your Doosan Forklifts
4 Most Expensive Forklift Repairs and How to Prevent Them
What We Need to Know When You Call for Forklift Service