4 More Tips For Loading Dock Safety
by Phil Handford, on November 26, 2021 at 10:46 AM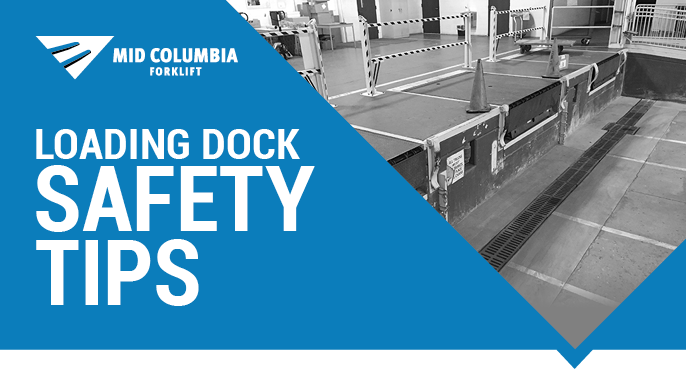 For warehouse safety managers, reducing risk is the name of the game. Unfortunately, loading docks remain one of the highest-risk areas for your workers. While you can't eliminate risks, you can reduce them by following these simple, actionable tips.
Maintain Your Dock Levelers
Your dock levelers are one of the most critical pieces of equipment in your warehouse. If they are not maintained properly, they could fail and put your workers at risk. Both mechanical and hydraulic pieces require planned maintenance to ensure they are working correctly and maintaining stability. You should also keep your levelers free of debris and dirt or dust build-up that could affect their performance. Finally, dock levelers have a rated capacity just like forklifts do. Make sure that you do not overload your dock levelers, which can cause avoidable damage.
Visible Safety Barriers
Open loading docks are a significant risk for your workers - a fall from even a 44-inch height can cause sprains and broken bones. While we've written about loading dock safety before, you can reduce worker risks with simple barriers and high-visibility markings. Warehouse equipment extends to barriers and guardrails, as well as bright yellow markings on the floor. Even warning strobes in dock areas can help alert workers to the potential risks.
Weatherproof Your Dock
Managing your work environment is essential in loading docks. If your docks are not properly weatherproofed, you can expose your workers and equipment to increased risks of slips, trips, and falls. Installing dock seals, shelters, and overhangs can reduce impacts from inclement weather and keep your people, equipment, and products safer.
Build a Culture of Safety
Finally, building a culture of safety in your warehouse is essential for keeping all areas safer. This goes beyond your training and certification program and into how you lead your workers and the expectations you set. Establish safety as a core company value is vital to keep your areas safer thanks to better worker behaviors.
Looking for more insights to keep your loading docks safer? Mid-Columbia Forklift and MidCo Material Handling are here to help. Our talented material handling pros will help identify areas for improvement in your facility and guide you to solutions that fit your needs. Contact us online or by phone:

Auburn 253-854-5438
Pasco 509-547-7413
Wenatchee 509-663-9009
Yakima 509-457-5137

Further Reading:
The Top 10 Most Popular Forklift Safety Accessories in Washington State
Why Your Material Handling Business Needs a Pedestrian Alert System
The Best Forklift Attachments to Improve Productivity