Forklift Certification in Washington State
by Kim McDowell, on February 14, 2020 at 9:00 AM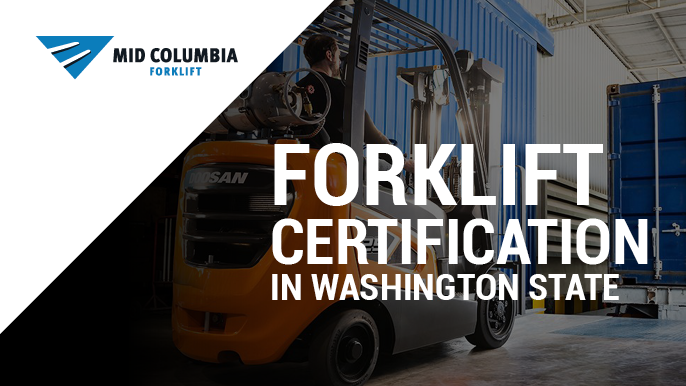 Becoming a certified forklift operator is a valuable skill. Thousands of companies throughout Washington use forklifts including: breweries, lumberyards, seafood processors, food distribution companies, wineries, and of course warehouses.
Not just anyone can use a forklift. Just like truck drivers need a CDL (Commercial Driver's License), forklift operators must complete specialized training and earn a certification. Operating a forklift without a license is an OSHA violation.
Whether you want to apply for a forklift operator job, or if you're a manager who needs to train new hires, this article covers you need to know about:
What to expect during a forklift certification course
Where to get OSHA forklift training in Washington state
How much forklift operators make in Seattle/Tacoma, Yakima, the Tri-Cities, etc.
Why online forklift training courses are a no-go
When you enroll in a forklift certification course, you'll learn to operate a specific type of lift truck. Just as pilots qualify to fly a specific aircraft (commercial, helicopter, etc.), forklift operators get licensed on specific equipment classifications, or "class."



A Class IV industrial truck is what most people think of when they picture a forklift cruising around a warehouse or outdoor yard. There are also rough terrain forklifts (Class V), pallet jacks (Class III), electric lift trucks (Class I) and others. If you're looking for work, consider getting certified on more than one class of equipment.

Be wary of any employer willing to let someone operate a forklift without proof of training. It should make you think about what other laws they're willing to break.

Similarly, avoid online-only courses. OSHA requires hands-on training. Any course that doesn't include hands-on training and an evaluation with an authorized trainer is a waste of money.
Forklift Certification - What to Expect
A forklift certification course has two parts: classroom instruction and hands-on training.



Part One: Classroom Training
Through videos, lecture and discussion, you'll learn about the different parts of a forklift, operator ergonomics, forklift inspections and safety procedures. The classroom may seem like the "boring part," but there are serious consequences to not following the rules including: OSHA fines, lawsuits, and serious injury to you or a co-worker.

At the end of the classroom session, there's a written test. Score 70 percent or higher, and you're ready to move on.

Part Two: Hands-On Training
As mentioned above, OSHA requires hands-on, also known as "practical" training and an in-person evaluation. During part two of your forklift training, you'll practice:
Doing an OSHA pre-shift inspection
How to operate, park, and power down a forklift.
Lifting and lowering loads
Before getting signed off as a forklift operator, you'll complete an assessment that includes moving a load and maneuvering the lift truck around obstacles. Once you pass, you'll receive your forklift license and documentation for your employer. Your forklift license is valid for three years unless you are involved in an incident.
Depending on your level of experience, you can get certified to operate a forklift in as little as four hours. If you'd like to earn several certifications and beef up your resume, training can take up to two days.
How Much Do Forklift Operators Make in Washington?
Licensed forklift operators in Seattle/Tacoma earn an average salary of $39,000 - $40,482 per year. In the Tri-Cities, Wenatchee and Yakima, forklift operators earn $36,000 - $37,000 per year.



*Stats as of January 2020, check Salary.com for updates and salary ranges in your city.

Before you choose a forklift certification training program, ask these key questions:
Does the course include hands-on training?
How experienced is the forklift trainer?
What is the refund policy/cost to repeat some or all of the course if a participant doesn't pass?
Individual, Remote, or On-Site Training Classes
The experienced training staff at Mid Columbia Forklift and MidCo Material Handling have certified thousands of forklift operators. We can certify you, or your staff, on any class of powered industrial truck or aerial work platform.
Employers can choose from remote or on-site training classes. We'll customize the program to your fleet to help you enhance safety, ensure compliance and improve efficiency.
Learn more about our forklift operator training in Auburn, Pasco, Wenatchee or Yakima. We're proud of our A+ Better Business Bureau (BBB) rating and will work hard to earn your business.
Further Reading
4 Simple Ways to Prevent Loading Dock Accidents
Forklift Operator Training for OSHA Compliance