How To Calculate Forklift Minimum Aisle Widths
by Kim McDowell, on October 1, 2021 at 6:15 AM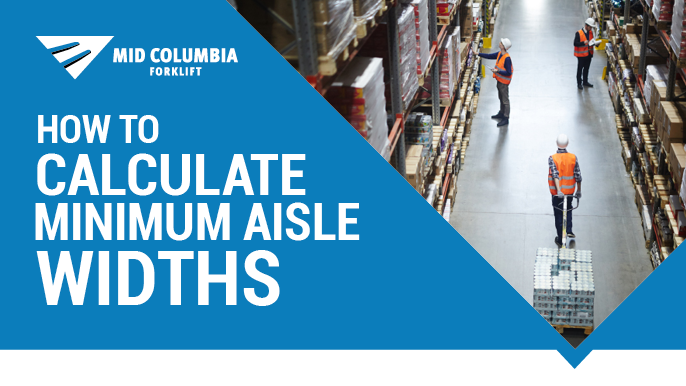 For busy warehouse managers, choosing the right forklift is essential. It goes beyond lifting capacity and tire type, though. You have to consider your physical workspace to keep things optimized. Calculating your minimum aisle width will let you choose the right warehouse forklifts - but how do you figure out how much space you need for safe forklift operation?
What Is A Forklift's Minimum Aisle Width?
A forklift's minimum aisle width tells you how much space you need to safely navigate with a full pallet load. This minimum may still mean tight navigation, but with the right equipment and training, your operators will be able to navigate warehouse aisles safely and effectively. Depending on your priorities, you may build in more moving space to your warehouse for increased safety and convenience.
How Do I Calculate Minimum Aisle Width?
Determining your forklift's minimum aisle width is a fairly simple calculation:
Enter your forklift's Basic Right Angle Stacking Width, sometimes referred to as Right Angle Stack.
Add your load length
Add 12 inches for clearance
This total length is the minimum width needed for operators to safely maneuver with pallet loads. When calculating, you should use your largest pallet load length to ensure flexibility throughout your warehouse. You should calculate this figure whenever handling new or irregular pallet loads to make sure it is safe to do so. You should also check your minimum aisle width when considering new forklifts for your fleet to make sure they can be used in your workspace.
Want to discuss your warehouse optimization? We're here to help. Team members at Mid-Columbia Forklift and MidCo Material Handling are material handling experts committed to helping you reach your business goals. We take pride in providing world-class service and equipment for our customers. Contact us online or by phone:
Auburn 253-854-5438
Pasco 509-547-7413
Wenatchee 509-663-9009
Yakima 509-457-5137

Further reading:
Why Your Material Handling Business Needs a Pedestrian Alert System
The Best Pallet Racking Solutions for Your Warehouse
The Best Clark Warehouse Equipment to Maximize Productivity