Order Picker Forklifts: Everything You Need To Know
by Trey Barber, on August 19, 2022 at 5:30 AM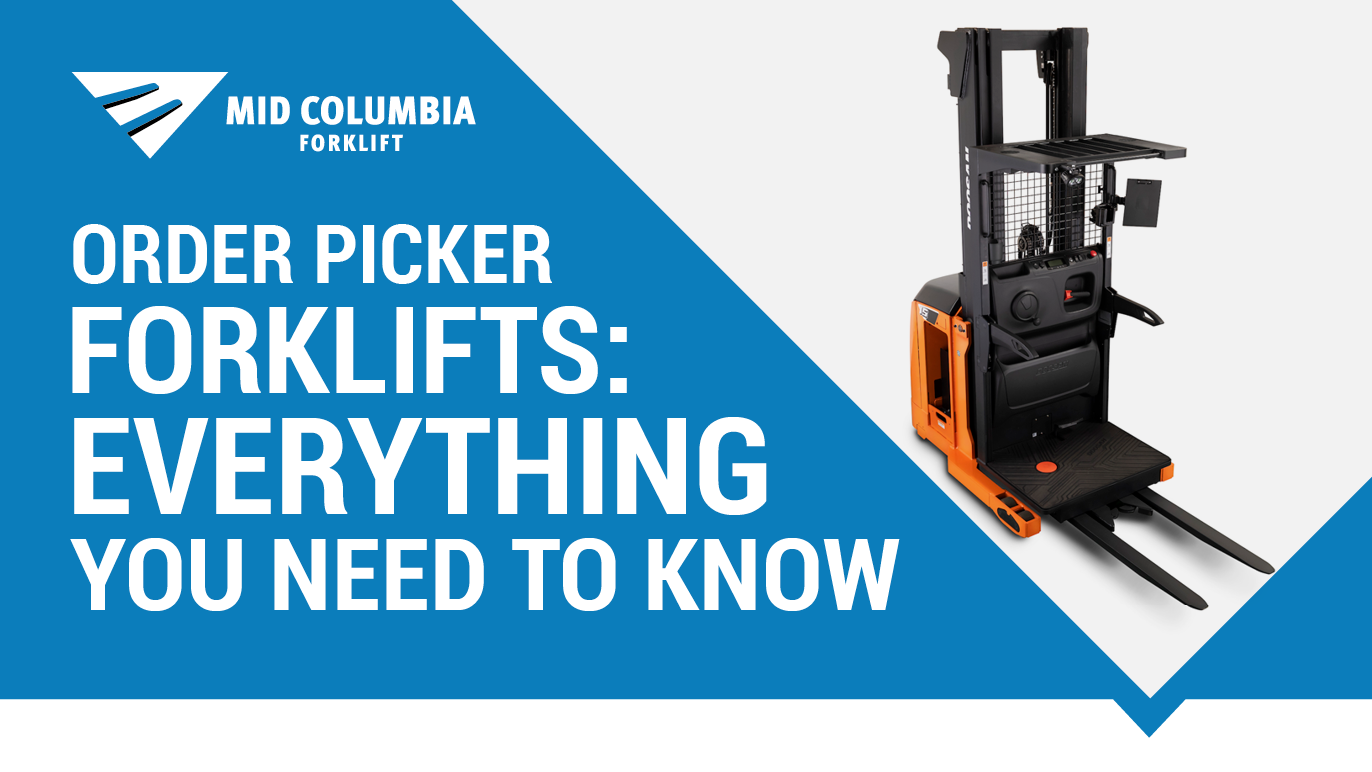 Have you ever had one of those days when everything has to get done, and you have no time to do it? You've had a busy day at work, and the kids have to get to practice on opposite sides of town. Then you have to run errands to five different stores which, of course, are nowhere near each other. So you find yourself rushing uptown, midtown, downtown, and everywhere in between. When you finally climb into bed, you feel like your alarm goes off 5 minutes later. And as you groggily pull yourself up to do it all over again, you think, "There has to be a better way."

Your warehouse has days like that too. Luckily, there is a better way. Order picker forklifts increase your warehouse's speed, efficiency, and safety with one product. Keep reading to learn how order pickers can revolutionize your warehouse.
Why Order Picker Forklifts Matter
For every job, there is a tool. And order picker forklifts are the right tool for any warehouse that fulfills orders of small items. They have a lot to offer but provide 3 key benefits.
Increase Order Picking Speed
The most obvious benefit of an order picker forklift is improved speed. Order pickers allow workers to pick inventory from shelves of any height without the inconvenience of shoving a ladder around the warehouse. Powerful motors, like the kind on the Doosan 9 Series, move the forklift in 3 dimensions with top-tier efficiency. This flexibility allows the operator to pick orders faster. And that means they get more done in a day.
Improve Worker Safety
The U.S. Bureau of Labor Statistics reported 161 fatal workplace falls involving ladders in 2020 alone. And that's not to mention the thousands of non-fatal injuries that workers suffer from ladders every year. The bottom line is that most ladders are an accident waiting to happen.

But order picker forklifts offer a safer alternative. These forklifts allow operators to stay clipped in throughout use. This secure attachment dramatically decreases the chances of a fall even when the operator is working at height for extended periods.
Increase Useable Space
In a warehouse, space comes at a premium. Every square foot of open aisle is a square foot not being used to store inventory. Order picker forklifts have slender profiles. This allows them to work even in narrow aisles so you can fit more shelving units into your warehouse. And, with their extended reach, these forklifts allow your shelves to stretch toward the ceiling. This way, you maximize every inch of your warehouse.
What To Look For in an Order Picker Forklift
There are many options available when choosing an order picker forklift. But not all perform equally. So here are a few features you'll want to look for in your order pickers.
1. Integrated Safety Features
Safety features should be your priority when selecting an order picker forklift. And high-quality order pickers will come standard with these features:
A highly rigid mast to ensure stability
Cushion functions for mast lifting and lowering
Smooth stop lifting and lowering
Side rollers and mast pads to minimize shaking
A pallet clamp to ensure the security of lifted pallets
Safety interlock functions, like side gates and foot switches, that restrict forklift functions when not engaged
Automated safety functions such as auto centering, auto deceleration, and auto parking brake
Safety lights
2. Productivity Enhancing Features
After seeing to the operator's safety, productivity is the next priority. Look for models with rapid lifting and travel speeds. This allows operators to quickly achieve the height they need to pick orders. And it minimizes travel time even in a large warehouse. Models like the Doosan 9 Series can even be programmed with up to 8 different pre-selected heights. This feature further improves productivity.

Additionally, you'll want to look for a model with good visibility. A wide mast layout lets the operator see clearly even when traveling at height. And be sure to select a model with LED lamp lights in the operator compartment to improve visibility while picking. This allows the operator to work effectively, even in dim lighting.
3. Operator Comfort
The best equipment is only as good as its operator. If you want to get the most out of your team, you'll want to make sure you select an order picker forklift with an ergonomic design. Some features to consider are:
Convenience devices like USB power, a cup holder, and operator cooling fans
Storage space for documents and other devices like a scanner
A wide cushioned standing platform
Ergonomic controls
Bright, intuitive displays
4. High Durability
Durability and quality parts ensure you get the longest life possible out of your order picker forklift. The Doosan 9 Series comes standard with an IP43-rated enclosed motor, an IP65-rated AC controller, Stellana poly urethane tires, and a patented hypoid bevel gear set. All that translates to longer service intervals and less downtime.
5. Simple Service
But no matter what, some routine service is required. First, select an order picker forklift with a rear door and hood that opens to a wide angle. You should also look for a removable drive tire cover. These features will make service access easy. The 9 Series also comes with Easyview. This program allows you to diagnose and program the forklift with just a laptop - no special equipment required.
When To Invest in an Order Picker Forklift
Shipping delays continue to plague supply chains worldwide. And the forklift industry is no different. So if you plan on investing in a new or used order picker forklift, we recommend planning 6 to 18 months in advance.

What if you need one faster? There is good news there. Mid-Columbia Forklift has Doosan 9 Series order pickers in stock at the time of this article's publication. But remember that our supply is limited and will go fast as we approach the holiday season.
Where To Learn More About Order Picker Forklifts
There is a lot to recommend order picker forklifts in general and the Doosan 9 Series in particular. So if you would like to learn more about order pickers, ask an expert at Mid-Columbia Forklift if they are right for your business. Contact us online or reach out to one of our dealerships by phone:

Auburn 253-854-5438
Pasco 509-547-7413
Wenatchee 509-663-9009
Yakima 509-457-5137
Further Reading
Where's My Material Handling Equipment? Lead Times Needed in 2022
Why You Should Invest In Doosan Electric Forklifts
Keep These 5 Replacement Parts at the Ready for Your Doosan Forklifts