6 Things To Consider Before Buying or Renting a Scissor Lift
by Hank Ansley, on August 28, 2020 at 12:23 PM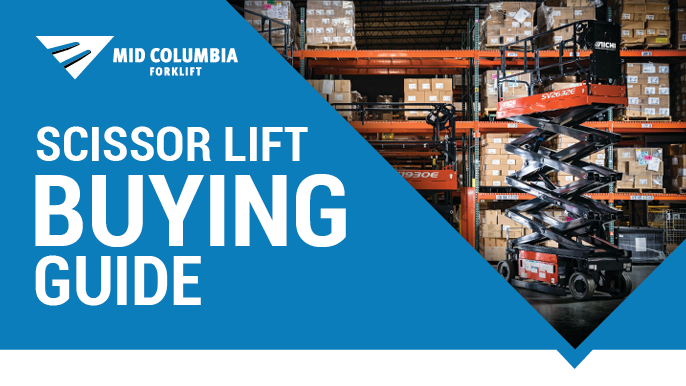 An online search for "scissor lifts for sale" or "rent scissor lift," delivers a long list of options. Buyer beware. Scissor lifts may seem simple and fundamentally the same, but there are major differences to consider in addition to cost.
Don't buy a Ford Ranger when you need a Ram 3500 (no offense to Ford owners). Consider these six things before you rent or buy a scissor lift:
Scissor Lifts - A Buyers Guide
Scissor lifts are a type of mobile, elevated work platform (MEWP) commonly used in warehouses, facility maintenance and construction. They provide a stable work platform for any aerial job where one or more workers need access to their tools - indoors or outdoors.
They're much safer than using a ladder, cost less than other powered equipment and most are easy to operate. The hardest part of using a scissor lift is choosing the best one for your operation, and we're about to make that part easy too. Here are six things you need to know before signing on the dotted line:
#1 Lift and Lower Speeds - How fast your lift goes up and down has a big impact on productivity.
#2 Operator Controls - The lift should have intuitive, precise controls. The easier the lift is to maneuver, the less time your operator will waste positioning it into the right spot.
#3 Dimensions - Choose a lift that can work within your space constraints (ceilings, doorways, etc.). Fold-down guardrails and a control box with remote capabilities provide greater flexibility.
Also, consider whether you need a lift designed for more than one worker. Some scissor lifts are only rated for one person at a time.
#4 Platform Height vs. Working Height - What's the difference? Working height = the platform height + six feet. So the actual working height will vary a bit depending on the height of the worker and their arm length.
PRO TIP: Some scissor lifts include the working height in the product number. For example, the chart below shows three AICHI scissor lifts. The SV1930E model has a platform height of 19 feet and an overall width of 30 inches.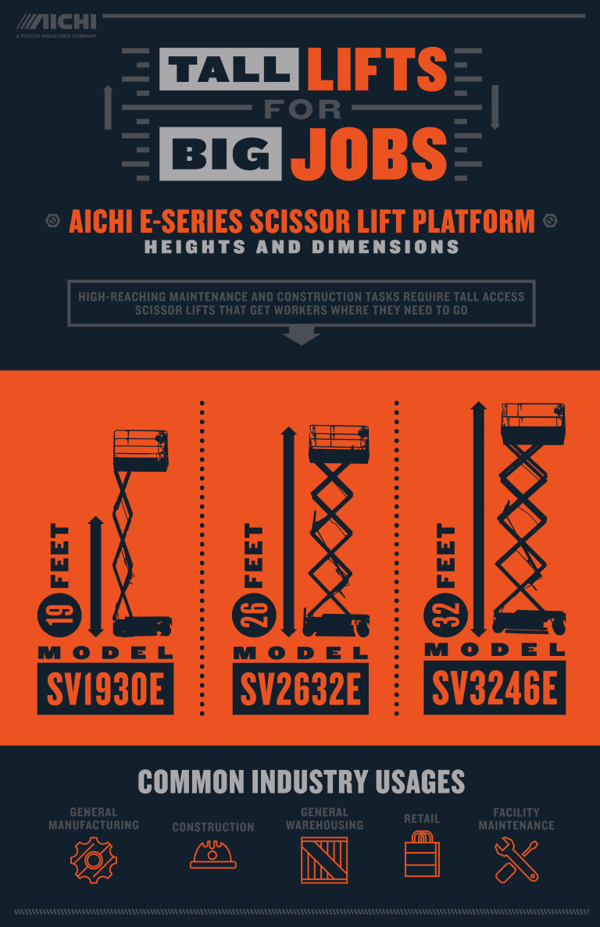 #5 Site Working Conditions - Scissor lifts have different wheel options, just like forklifts. If your scissor lift will operate entirely indoors or on flat, smooth surfaces, the small wheels are fine. For outdoor applications or applications where the lift must travel between buildings, consider larger tires designed for uneven terrain.
#6 Safety Features - Simple features such as tilt alarms and anti-rollback reduce tragic accidents. AICHI scissor lifts automatically reduce maximum travel speed when the platform is elevated to help prevent tip-overs when the operator is in a hurry.
AICHI Scissor Lifts Maximize Safety and Efficiency
AICHI is our top choice for scissor lifts here in the Pacific NW. They're easy to maintain, provide longer run times compared to other scissor lifts, and designed with operator safety in mind.
AICHI Scissor Lifts Are Easy to Maintain
AICHI's scissor lifts use efficient, brushless AC drive motors designed by Toyota and don't service as often as DC equivalents
Oil-free bushings in the scissor structure reduce maintenance time and cost
Quickly check hydraulic oil levels without using tools or lifting the platform
Slide-out trays make battery maintenance quick and easy (maintenance-free AGM batteries available)
They're Versatile and Maneuverable
Guardrails can be easily lowered to fit through narrow doorways (AICHI's SV1930E fits through standard doorways without lowering the guardrails)
The zero-degree inside turning radius makes it easy to navigate through buildings
A roll-out platform extension allows the operator to reach across objects
Controls are easy to use and allow remote use while off of the scissor lift
25 percent gradeability
Full 90-degree steering angle
Standard Features Help You Get More Done
Four 6-volt 225AH deep cycle batteries and a high-efficiency battery charger come standard (higher capacity batteries available)
The work platform has 110V AC power
Some models have dual operational modes for increased capacity at lower lift heights
Buy or Rent a Scissor Lift in Seattle-Tacoma, Yakima, Wenatchee or The Tri-Cities
When choosing a scissor lift, cost isn't the only factor to consider. Maximize your investment by getting the right scissor lift for your job and job site. The experts at Mid-Columbia Forklift and MidCo Material Handling will work hard to make sure you get the right equipment for your application and budget.



Contact us online or by phone:
Auburn 253-854-5438
Pasco 509-547-7413
Wenatchee 509-663-9009
Yakima 509-457-5137