Product Review: Doosan Electric Walkie Rider BER-30/40
by Phil Hanford, on August 7, 2020 at 3:45 PM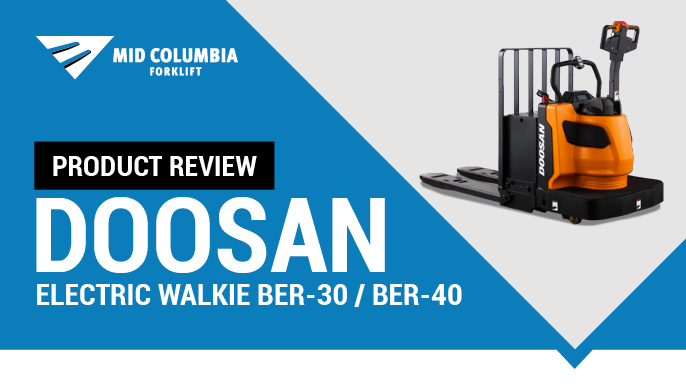 Doosan offers a full range of forklifts to meet your needs across industries and settings. For warehouses, big box stores, and other settings with long product runs, the Doosan Electric Rider makes a great addition.

Doosan Electric Walkie Rider Overview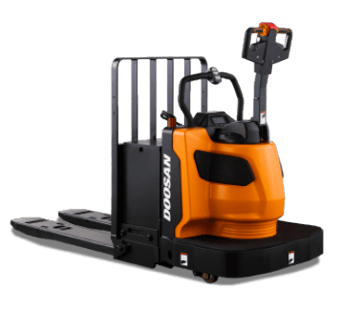 Product Name: BER30, BER40
Manufacturer: Doosan
Standard Features: Electromagnetic parking brake, battery slide roll in/ roll out, heavy duty frame, specially designed fork tips, heavy-duty quick-change casters.
Lift Capacity: Up to 8,000 pounds
Optional Upgrades: Coast control, rubber drive wheels, tandem load wheels, tilting LBR (48", 60", 72"), various fork length (36"~60" BER30) (36"~96" BER40), convenience tray w/ cup holder (only w/ LBR), amber strobe, cold storage package.
Price Range: Starting at $8,687K
Value for Price: Above average
Best For: Indoor warehouse environments.
Not Recommended For: Applications outside of warehouse environments.
View Current Inventory:
New Forklifts for Sale in Washington
Used Forklifts for Sale in Washington
Doosan Electric Walkie Rider Features
Doosan's electric walkie rider features Doosan's proven platform for moving products quickly and efficiently. With ergonomics designed for operator comfort and safety and easy maintenance access, the Doosan BER30/40 are a strong contender for warehouses and related settings.
Why Doosan Equipment Is Easier To Maintain
Doosan equipment is known for its high-quality, durable equipment. The Electric Walkie Rider is no different - featuring 20% more structural steel than competitive models and using high-quality components, this model is built to last. With easily accessible covers, battery compartments, and grease points for maintenance, the BER30 / BER40 is built to work harder, longer than the competition.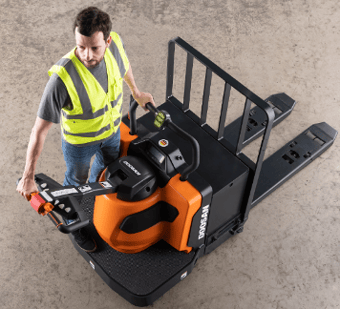 Doosan Equipment: Built for Operator Comfort and Safety
Doosan designs equipment to keep operators safe and comfortable while working in demanding settings. The platform allows easy on/off access for operators, helping reduce the risk of slips, trips, falls, and overuse injuries. An ergonomic handrail with auxiliary controls provides stability during operation. And the Guardian Stability System protects operators from rollover incidents when properly used. Altogether, the Doosan Electric Walkie Rider is a comfortable machine to use when moving quickly through your warehouse.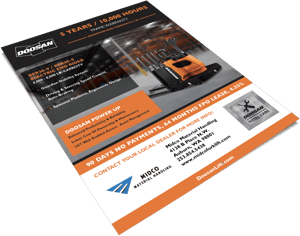 This is a great time to put this forklift to work in your warehouse. The BER30 / BER40 Electric Walkie Rider comes with a 5 year/10,000-hour warranty. This can be combined with a finance special that gets you 180 days of no payments with a 64 month FMV Lease, 4.25%. Don't wait, this offer is only available through August 31, 2020. Learn more about Doosan's warranty and finance specials here.
Want to see the Doosan Electric Walkie Rider in action? Contact us to schedule a demo of this innovative machine. You can also reach out directly to our dealerships by phone:
Auburn 253-854-5438
Pasco 509-547-7413
Wenatchee 509-663-9009
Yakima 509-457-5137