Things to Know Before Renting an Elevated Work Platform
by Dan Bergman, on September 4, 2020 at 10:26 AM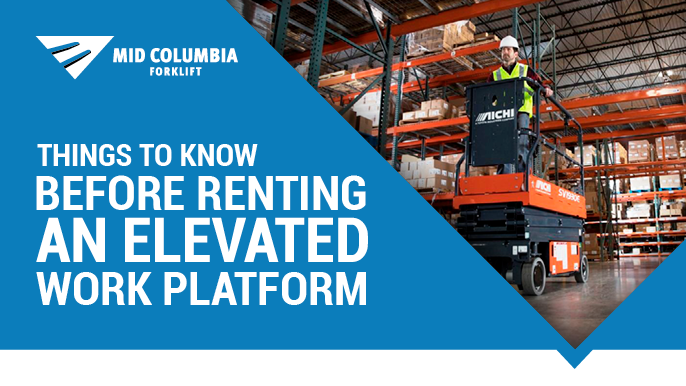 Scissor lifts, mast lifts, boom lifts, and other mobile elevated work platforms (MEWPs) are highly specialized pieces of equipment. Unlike your fleet of dependable forklifts, MEWPs are used in certain occasions and likely experience limited day to day use. With large fleets of rental equipment available, the right rental equipment at the right time can help your warehouse maintenance team complete essential work
If you've never rented an aerial lift before, these are key things to know before working with a rental equipment company.
What size platform do I need?
Platform size is an essential figure that sometimes is not considered. Large platforms typically have larger bases, which can make maneuvering through a warehouse or other enclosed space very challenging. However, renting a scissor lift or boom lift with too small of a working area can result in more time spent navigating at heights than completing essential work. Work with your maintenance team to fully understand how much space they need to complete their work.
What working height do I need?
If the component of your facility you need to work with is 25 feet high, you don't need a 25 foot tall MEWP. A scissor lift or mast lift with a working height of 19 feet will be sufficient for workers who are 6 feet tall. Having a clear understanding of your needs and constraints is essential for right-sizing your equipment rental.
Do my operators need to be trained?
Have your operators and maintenance personnel already been trained on operating MEWPs? OSHA's training and certification standards extend beyond forklifts to these specialized equipment configurations. If in doubt, ask your rental provider or other trusted material handling partner for training customized to your rental equipment and workspace.
What job site conditions might affect my safety?
Where will your operators be using the aerial lifts? If your environment has uneven ground, outdoor spaces, unpaved areas, or other rough terrains, make sure your rental provider knows. They are the experts and will help identify what features are needed to ensure your people are safe while using their equipment.
Need to rent a MEWP for your business? Contact us online, and we will work with you to find the right unit for your needs and budget. You can also connect with our team of industrial equipment experts at a Mid-Columbia Forklift and MidCo Material Handling location near you:
Auburn 253-854-5438
Pasco 509-547-7413
Wenatchee 509-663-9009
Yakima 509-457-5137