Are Online Forklift Certifications Acceptable in Washington State?
by Phil Hanford, on April 3, 2020 at 8:00 AM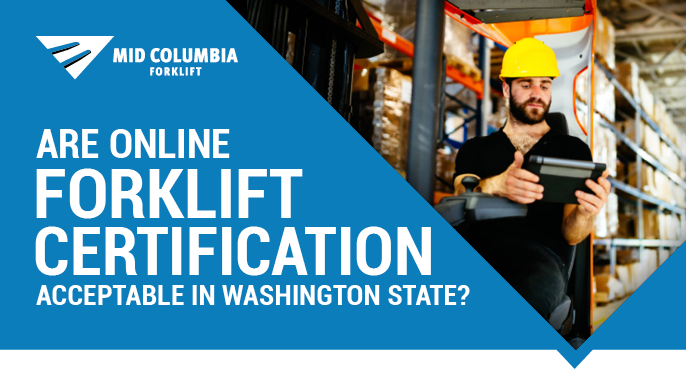 An internet search for "forklift operator training Washington state" brings up several companies offering online training. If you're wondering whether online forklift certifications are legit, the short answer is NO.
According to OSHA, you need hands-on training and in-person evaluation to get a forklift license. Here's what OSHA says on their website:
Hands-on (practical) training provides the trainee with the necessary physical skills and enhances the employee's ability to operate a powered industrial truck safely. Demonstrations by the trainer will impart important information to the trainee. In addition, evaluation of the trainee's ability to operate the truck safely in the workplace will ensure that the trainee has successfully transferred the skills learned to the work environment.
These standards exist because, according to OSHA research, 25 percent of forklift accidents are due to inadequate training. Businesses who cut corners put themselves at risk for tragic accidents and significant fines.
OSHA's Forklift Certification Requirements
Operating a forklift is a physical skill. Imagine trying to learn how to ride a bike by watching a video, or sink a free throw without ever touching a basketball. The same idea applies to learning how to safely maneuver a forklift. Unless you sit behind the controls of a forklift, it's impossible to know how to operate one.
Here are a few more examples of how online forklift certification courses fail to meet OSHA training standards:
Training shall consist of a combination of formal instruction, practical training (demonstrations performed by the trainer and practical exercises performed by the trainee), and evaluation of the operator's performance in the workplace. - 29 CFR 1910.178 (l)(2)(ii)
There's no way an online course can meet this standard.
You can't complete practical exercises on a computer.
A trainer can't evaluate the operator's performance if they're not in the actual workplace operating an actual forklift.
The operator training program should include the user's policies for the site where the trainee will operate the truck, the operating conditions for that location, and the specific truck the trainee will operate. - OSHA 4.19.2
Every business has a unique blend of facility layout, product inventory, and equipment. It's impossible for a one-size-fits-all online course to include your corporate policies, facility-specific safety, and the individual units in your fleet.
Under the direct supervision of persons who have the knowledge, training, and experience to train operators and evaluate their competence. - 29 CFR 1910.178 (l)(2)(i)(A)
You get the idea... online forklift certifications do not meet OSHA's requirements for forklift operator training. Don't waste your money.
Mid Columbia Forklift and MidCo Material Handling offers hands-on OSHA forklift training in the Seattle area, Tri-Cities, Wenatchee and Yakima. Our experienced trainers make learning fun, but with a strong emphasis on safety and how to be a professional forklift operator.
Each training session is customized to your operation and equipment. Request training online, or let us know what questions you have by contacting us online or by phone:

Auburn 253-854-5438
Pasco 509-547-7413
Wenatchee 509-663-9009
Yakima 509-457-5137
Further Reading:
Forklift Certification in Washington State - What You Need to Know
Forklift Operator Training for OSHA Compliance
4 Simple Ways to Prevent Loading Dock Accidents