The 3 Steps to Improve Forklift Pedestrian Safety in Your Warehouse
by Phil Hanford, on June 3, 2022 at 5:33 PM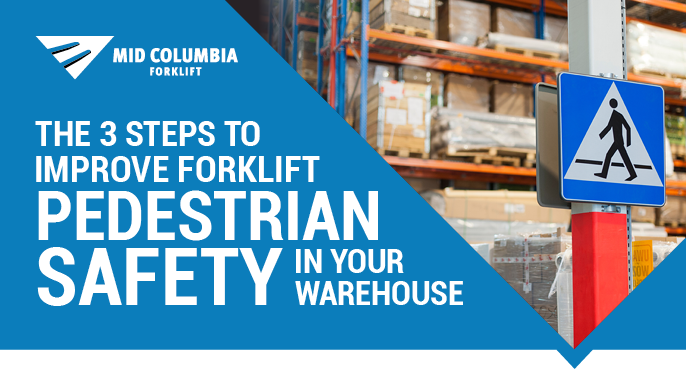 Roughly 87 deaths occur annually from forklift accidents.*
That's 87 too many.
While this fact alone is disturbing, the alarming truth is that this number isn't decreasing.
Unfortunately, this number has increased by 30% in the past decade. And we haven't even touched upon the number of severe, life-changing injuries that have resulted from workplace forklift incidents annually, which is around 35,000.
These aren't numbers - these are real human lives.
That tells us that something needs to be done right now, and warehouses need clear, no-nonsense safety policies that get more workers home safely. Here are three steps to improve forklift warehouse safety for pedestrians.
1. Conduct a Thorough Safety Audit
How safe is your work environment right now? In terms of preventative or contingent safety measures? What about compliance?
This exercise shouldn't be taken lightly. It's not just human lives and livelihoods at stake but, under the right (or should we say wrong) circumstances, the business itself.
In preparing your answers, you can ask the following (or similar) questions to get started:
How is your warehouse prepared to prevent forklift accidents from occurring?
What kind of accidents could potentially occur?
What are you and your employees doing to prevent this specific type of accident?
If an accident should occur, what is the protocol in place to respond quickly and effectively?
Are employees trained enough to be able to know what to do?
Are there physical measures in place to prevent accidents?
What checks are being performed on forklifts, and how regularly?
You can meet with your team to discuss your current concerns and get their input, especially those who are running forklifts or managing forklift crews.
By knowing your workspace's safety strengths and weaknesses, you can take specific actions to beat the forklift pedestrian accident statistics.
2. Offer More Training Opportunities
Granted, it may not be fun for your employees to review safety tapes and sit through long talks titled "OSHA Forklift Pedestrian Safety Part II."
In case they start to fall asleep, you can remind them of another shocking statistic from OSHA. Namely, 70% of forklift accidents in the US could be prevented with more rigid training policies.
Some warehouse managers don't see the value of forklift pedestrian safety training, but this is exactly one of the reasons we see so many incidents today.
Let's train our operators and pedestrians, and let's keep an eye out for learning opportunities. Is there a corner of the warehouse you're seeing more close calls? That might be an opportunity to increase visibility by adding mirrors or, though a more drastic option, by changing forklift routes entirely.
3. Implement Physical Systems Such as Forklift Pedestrian Safety Sensors
Better awareness and increased training are foundational to creating a safer work environment, but you can make it even safer with physical solutions.
Forklift pedestrian safety sensors are a great place to start.
Forklifts already come with plenty of alert systems. Anybody can tell you they use blinking lights and distinct backup alarms.
While these do alert nearby pedestrians, they don't provide the operator with any information.
Forklift pedestrian safety sensors, like Blaxtair's Pedestrian Alert System, are 3D cameras mounted on forklifts that allow operators to see and hear if a pedestrian is nearby or a collision is imminent.
The camera itself provides the most important information to the operator via a video feed. But, for added safety, they also come equipped with a sensor that detects nearby objects. Once an object or pedestrian is close enough, the video feed's border immediately turns from green to red, coinciding with an audio alarm that tells the operator to stop immediately.
These are wonderful tools designed to reduce workplace accidents and are well worth the investment if they prevent even one incident.
Improving Your Pedestrian and Operator Safety with Expert Help
We would love to have a part in reducing the statistics we covered in the beginning.
So, if you're considering pedestrian safety alert systems for your fleet or would like to learn more about increasing the overall safety of pedestrians and operators in your warehouse, we offer safety products and safety training to help.
Our dedicated team of experts at MidColumbia Forklift and MidCo Material Handling will take the time to learn and understand your specific and most pressing safety needs so that we can offer you the most suitable options. Contact us online or by phone at one of our local branches in Washington state:
Auburn

253-854-5438
Pasco 509-547-7413
Wenatchee 509-663-9009