Tough Kalmar Reach Stackers are Perfect for Washington State Ports and Terminals
by Hank Ansley, on June 14, 2021 at 2:58 PM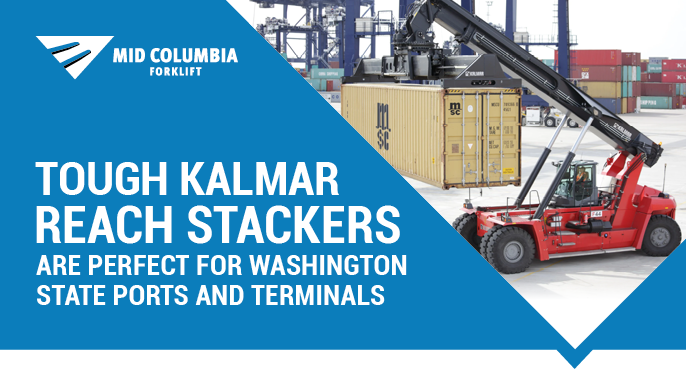 Ports and terminals make up a huge portion of Washington state's material handling businesses. The harsh environments and demanding workloads require durable equipment to move shipping containers full of product to their next destination. Kalmar reach stackers are the perfect solution for the extreme environments in Washington's port and terminal industry. If your operation needs a powerful solution for port and intermodal terminals, here's why you should consider Kalmar.
Lifting Capacity
Kalmar's reach stacker lineup provides lifting capacities up to 268,000 pounds in the Super Gloria. These members of the DRG model family can stack standard shipping containers up to 6 high and 4 deep, making them a versatile solution for stacking and picking. That capacity creates a lot of flexibility across industries as well, creating more value for potential resales when your equipment needs refreshed. While they do have a higher initial price, these investments have a longer lasting impact and ROI than comparable brands.
Operator Comfort
Port and intermodal operators face long shifts that can create strains and demands on their body. Overuse injuries, neck and back strains, and other minor injuries are common for operators across industries. Kalmar's reach stacker's feature ergonomic design considerations and increased visibility to reduce the risk of injuries for operators:
The available EGO cabin provides unparalleled levels of visibility to reduce potential strains from leaning to see through limited spaces.
An optional 180-degree rotating operator's seat provides even greater visibility and comfort when controlling the large equipment in multiple directions.
Ergonomic operator seats and controls reduce strain from long term operation. Additional options increase operator comfort further to reduce fatigue throughout a shift.
Optional networked cameras on the reach stacker's body can further increase visibility for maneuvering in tight areas and reduce risks of collision.
Overall, reduced operator fatigue and discomfort mean they can maintain levels of awareness over long shifts. Comfortable operators are less likely to be injured or to damage product or equipment due to operating errors.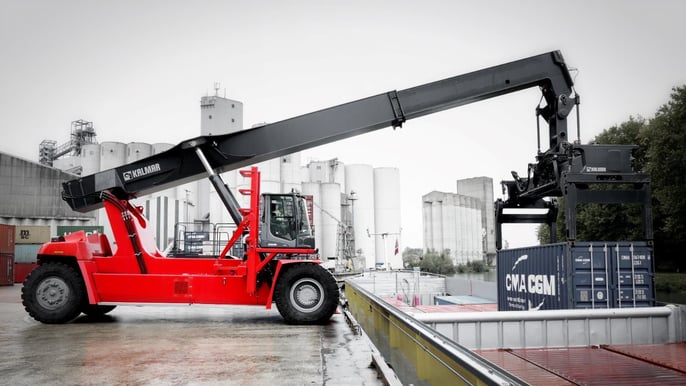 Fuel Efficiency
Huge industrial equipment requires increased fuel levels to power their large engines. However, this doesn't mean fuel consumption has to destroy your operating budget. Kalmar's available Tier 4 final Diesel engines can reduce emissions by up to 90% and deliver increased fuel efficiency. Available options such as the K-motion lineup further optimize drivetrain performance to make reach stackers even more efficient. This efficiency can help offset your total cost of ownership thanks to longer service intervals and increased monitoring bundled in the equipment package. For multi-shift operations in ports, longer service intervals can make or break their business.
Dependable Performance
Kalmar equipment is known around the world for their quality and performance. Whether you're investing in the DRU Essential Reach Stacker lineup or acquiring a DRG Super Gloria model, you are potentially saving 30% over the lifespan of the equipment. Combined with the power of the equipment, ports and terminals in Washington state can count on Kalmar's reach stackers to meet their heavy-duty business needs.
Want to set up a demo of Kalmar's reach stackers? Contact the material handling experts at Mid-Columbia Forklift and MidCo Material Handling. You can also contact one of our dealerships in the Pacific Northwest by phone:
Auburn 253-854-5438
Pasco 509-547-7413
Wenatchee 509-663-9009
Yakima 509-457-5137