The Best Cushman Equipment for Industrial Work
by Trey Barber, on July 17, 2020 at 9:30 AM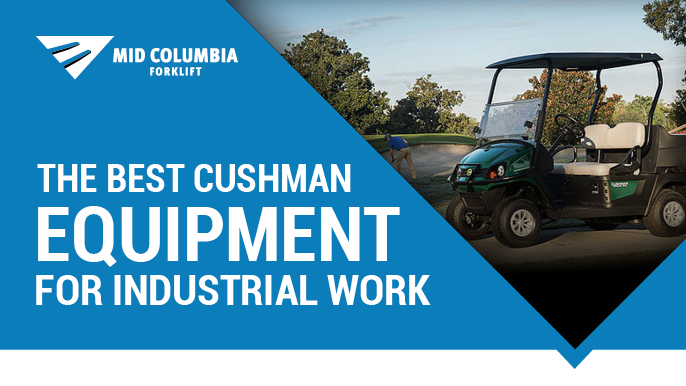 For factory and warehouse managers, one of the biggest challenges is keeping things moving. While forklifts are great for moving equipment, getting people and supplies across large facilities can be difficult. But it doesn't have to be.
Cushman equipment offers a full line-up of industrial utility vehicles to help move your people and product across your workspace. Here are the top types of Cushman equipment to help you keep your people and products moving.
Burden Carriers
Cushman's Titan Burden Carriers are a versatile option for moving products and materials around your facility. With options of up to 4 personnel seats and a heavy duty cargo deck, burden carriers can round out your warehouse and manufacturing equipment. Whether you're hauling up to 3,000 pounds or towing 8,000 pound with carts, the Titan is powerful and nimble for moving about your facility.
Cushman Haulers
Haulers are versatile vehicles that are a perfect fit for maintenance teams. With seating options for up to six personnel, rugged tires, and a spacious cargo bed, your personnel can make the rounds and carry supplies to keep your facility safe and functional. You can also choose between gas or electric drivetrains to meet your energy needs.
Personnel Carriers
Showcase your facilities to executive visitors or tour groups with Cushman's Shuttle lineup. With capacity configurations for up to 8 passengers, gas and electric options, and other key accessories, you can carry passengers comfortably about your facility. Just be sure you right-size your electric personnel carrier for your workspace.
Stock Chasers
Cushman stock chasers bridge the gap between a burden carrier and an order picker. These uniquely nimble vehicles include an integrated ladder and cargo deck for making quick runs to pick a variety of items from racks. With a powerful electric drivetrain and ergonomic options for operators, your staff can move products and materials quickly around your facility.
Tow Tractors
Cushman's Tug tow tractor delivers an 8,000 pound towing capacity powered by a 48-volt AC motor. With the power to tow multiple carts with heavy materials as well as an integrated cargo deck, this vehicle is a powerful component for industrial facilities of any size.
As with any major purchase, especially that being equipment for industrial work, make sure that your Cushman selection will be maintained properly in your facility. Ensuring uptime and maintenance for all of your equipment is essential for safety and productivity.
Ready to discuss a Cushman equipment purchase? Contact us today to discuss your needs and how a utility vehicle can help move your people, materials, and products more effectively.