3 Things Shipping Container Management Start-Ups Need To Know
by Phil Hanford, on September 13, 2021 at 12:00 PM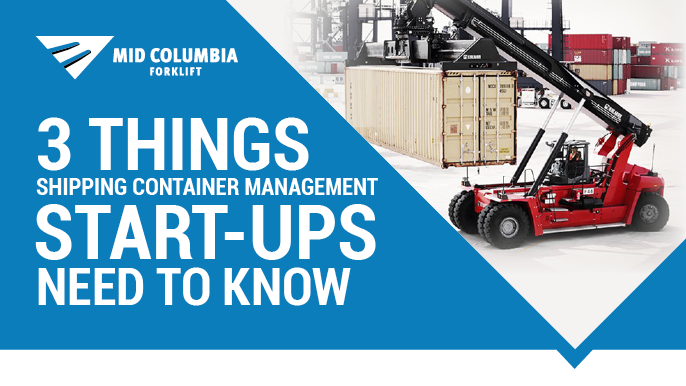 Shipping and logistics have never been simple. However, increased shipping demands during the COVID-19 pandemic have transformed the industry. Choked ports and limited container availability have made shipping and fulfillment ongoing headaches. For trucking companies, long lines at ports can cause significant delivery delays.
To combat these issues, new businesses dedicated to shipping container management are born. Usually, they are located within 2-3 hours of major ports and shipping centers to help companies complete container deliveries. Here are three key considerations for entrepreneurs joining this developing market:
Real estate needs for shipping container staging operations
For companies seeking to start a new shipping container operation, real estate is a significant investment. Your location must be relatively close to their final destination of ports, with enough space to hold many containers. You'll also need to be accessible for contracted truckers that will complete the "last mile" delivery.
However, be careful when selecting your location for development. Many counties and municipalities restrict how high you can stack shipping containers. Check all zoning regulations to make sure you can maximize your storage and effectiveness.
Essential equipment for shipping container management
Managing shipping containers is a heavy-duty job. Two pieces of equipment are essential: top pick cranes and reach stackers. For growing operations, Kalmar equipment delivers value, power, and return on investment.
Top pick cranes are frequently seen in ports and terminals. They are also known as rubber tire gantry cranes. These large pieces of equipment can straddle as many as ten containers and stack up to six high. They are also able to handle "break bulk" containers with irregular attachments. This is a crucial need for flexibility in fulfillment. Kalmar also has flexible options for electric, diesel, and automated gantry cranes. They can be tailored to fit business needs and goals.
Reach stackers are another essential piece for managing large containers. They provide flexibility for container stacking and picking. Kalmar's reach stackers can stack containers up to six high and four rows deep. Reach stackers also have breakbulk handling abilities. Kalmar's stackers can handle up to 268,000 pounds in the Super Gloria model. Kalmar's reach stackers deliver the power, comfort, and safety features growing container management operations need to succeed.
Logistics challenges for shipping container start-ups
Finally, shipping container companies have to deal with several logistics challenges:
They need to move staged containers quickly based on port availability.
They have to quickly and effectively assemble and stage their container stacks.
They have to

maintain complex equipment

for reliable performance.
The challenges need reliable partnerships with experts in heavy-duty material handling equipment. Mid-Columbia Forklift and MidCo Material Handling have the experience, knowledge, and products you can count on to be successful. We will work with you to help make your business goals a reality. Contact us to learn more about our Kalmar heavy equipment and services you can count on.
Auburn 253-854-5438
Pasco 509-547-7413
Wenatchee 509-663-9009
Yakima 509-457-5137
Further Reading:
Best Equipment for Intermodal Shipping Management
Tough Kalmar Reach Stackers are Perfect for Washington State Ports and Terminals
Product Review: Kalmar Super Gloria Reach Stacker