Product Review: Kalmar Super Gloria Reach Stacker
by Hank Ansley, on January 15, 2021 at 11:49 AM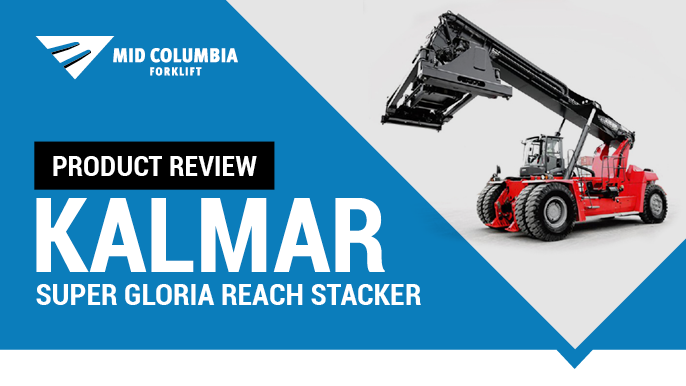 Kalmar's heavy equipment is known for its high quality construction and big impacts for port operations. The Super Gloria Reach Stackers deliver on Kalmar's reputation for innovation and quality. Boasting capacities from the 22,000 pound DRG100 up to the 286,000 pound DRG-1300, these big machines provide high performance and reliable operation. Learn more about this equipment lineup here.
Kalmar DRG100-1300 Overview
Product Name: DRG100 through DRG1300
Manufacturer: Kalmar
Standard features: Internal oil cooled disc brakes, easy to read instrument panel, fully adjustable interior, fingertip controls, on board CanBus system for troubleshooting.
Lift Capacity: 22,000 - 286,000 lbs.
Optional Upgrades: Kalmar offers an extensive variety of optional upgrades for the Super Gloria DRG Reach Stacker lineup, including a 180 degree rotatable operator seat, flat glass cab, elevated cab, seat options, extra seating, corrosion resistant packages, and much more.
Price Range: Starting at $375,000
Value for Price: Exceptional
Best for: These units are best for high usage operations with heavy loads. Pre-cast, transloading, and port operations all benefit from the high performance of the Super Gloria lineup. Kalmar's decades of experience in delivering top-notch operator comfort, safety, service, and support show in this lineup. For operations in need of high-performance equipment in demanding environments, the Kalmar Super Gloria is the right reach stacker solution.
Not Recommended for: Low usage applications focused on price.
Learn more about the brand: www.midcoforklift.com/kalmar
Inquire About Our Current Inventory:
New Forklifts for Sale in Washington
Used Forklifts for Sale in Washington
Kalmar Super Gloria Reach Stacker Pros and Cons
Pros: Kalmar has a strong reputation for delivering high-quality equipment with big impacts for business. The DRG100 through DRG1300 reach stacker lineup continues that tradition. These pieces of heavy equipment are highly customizable and can be configured for many different needs for ports, intermodal, and other demanding industries. Combined with high resale value, reduced environmental impacts, and flexible use, the Kalmar DRG Super Gloria delivers exceptional performance and value.
Cons: Large equipment comes with a high sticker price that can sometimes be challenging for businesses to stomach, but flexible financing options can help. Purchasers will need to follow a proper maintenance schedule to protect this large investment and keep the Super Gloria working in top condition. The base cab glass is curved, meaning replacements must be ordered from the factory instead of locally sourced. And these pieces of equipment are challenging to ship due to their large footprint.
How the Kalmar Super Gloria Outperforms Other Reach Stackers
Compared to other reach stackers, the Kalmar Super Gloria offers superior performance and customization. With many attachments for variable material handling such as forks, pipe clamps, and magnet attachments, Kalmar's DRG can meet many challenges across industries. They can also pick containers from any angle, and stack them up to 6 high and 4 deep.
For operators, the EGO cab offers unmatched visibility for safe operation. Kalmar's cabin is ergonomically friendly for many operators to keep them comfortable and safe during long shifts. Additional equipment options such as in-cab monitors and a 180 degree swivel seat can further increase comfort and easy operation of the large equipment.
Kalmar Heavy Equipment is Known for Quality
Kalmar engineering means DRG Super Gloria Reach Stackers aren't just powerful - they're efficient too. With three drive modes available and Tier 4 Final engines, these large pieces of equipment can create 30% industry savings overall. They also feature increased initial service intervals to keep your equipment working longer before maintenance is required. Thanks to the high quality of engineering, significant business impacts, and customizations available, the DRG lineup can become a key part of many heavy-duty operations.
Want to see how the Kalmar DRG lineup could fit into your operation? Talk to the experts at Mid-Columbia Forklift and MidCo Material Handling. We'll learn more about your needs and help you determine what will help improve your business' performance.
Auburn 253-854-5438
Pasco 509-547-7413
Wenatchee 509-663-9009
Yakima 509-457-5137
Further Reading
Tough Kalmar Forklifts Keep Workers On the Job
Product Review: Kalmar Heavy Forklift DCG180/330-12
Best Equipment for Intermodal Shipping Container Management