Product Review: Kalmar Heavy Forklift DCG180/330-12
by Hank Ansley, on August 14, 2020 at 3:15 PM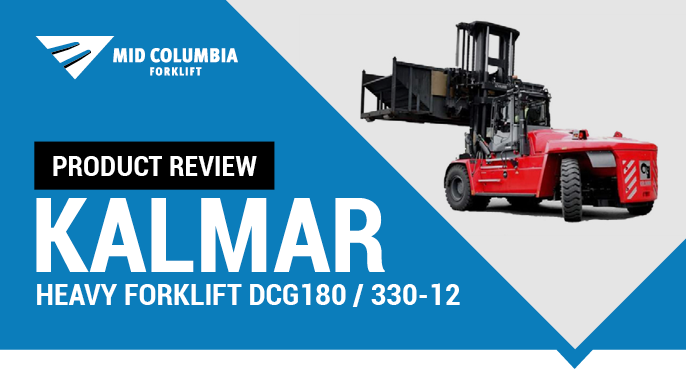 Kalmar forklifts are known for their high-quality construction and reliable performance in demanding environments. The heavy forklift lineup of the Kalmar DCG180-12 through the DCG330-12 is no different. These expertly engineered forklifts provide comfortable operation and powerful performance in settings demanding high-capacity lifting. Learn more about this innovative product line with our overview here.

Kalmar Heavy Forklift DCG180/330-12 Overview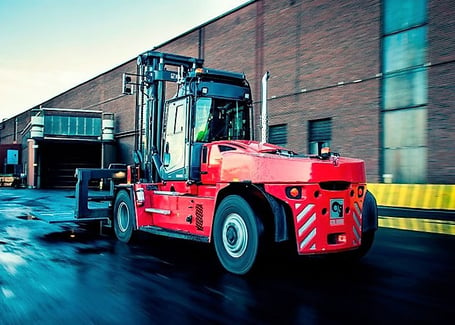 Product Name: DCG180-12 through DCG330-12
Manufacturer: Kalmar
Standard Features: Internal oil cooled disc brakes, easy to read instrument panel, fully adjustable interior, fingertip controls, on board CanBus system for troubleshooting.
Lift Capacity: Up to 72,000 pounds
Optional Upgrades: Kalmar offers extensive optional upgrades to the DCG Heavy Forklift lineup, including a 180-degree rotatable operator seat, flat glass cab, elevated ab, seat options for increased comfort, corrosion protection, electronic inching, connecting television cameras with in-cab monitors, and many more.
Price Range: Starting at $266,922
Value for Price: Exceptional
Best For: Pre-cast, transloading, and other demanding outdoor environments requiring round-the-clock heavy lifting.
Not Recommended For: Low usage applications.
Learn More About the Brand: www.midcoforklift.com/kalmar
View Current Inventory:
New Forklifts for Sale in Washington
Used Forklifts for Sale in Washington
Kalmar Heavy Forklift DCG180-12/ DCG330-12 Pros and Cons
Pros: Kalmar is well-known for delivering high-performing heavy forklifts for intensive applications across industries. The DCG180-12 through DCG330-12 lineup is no different. These pieces of heavy machinery are built to last with robust fabrication, easy maintenance access, and smart engineering that protects essential components. Combined with powerful options for customization, a high resale value, and decreased environmental impacts, the Kalmar DCG heavy forklifts deliver high levels of performance and value.
Cons: Big equipment is not without its challenges. A relatively high purchase price can be a tough sell, even with all the value Kalmar equipment brings to the table. (Luckily, there is financing available.) Purchasers will also want to be sure to protect their investment, as proper maintenance is essential to keep the Kalmar DCG lineup in top condition. Finally, transporting these large pieces of equipment can be tough to coordinate due to their footprint and heavy weight.
How Kalmar Heavy Forklifts Decrease Fuel Consumption
Kalmar has three drive modes: power, normal, and economy. Each mode can be balanced the way your application dictates. To maintain performance at specialized levels, Kalmar offers the widely successful and reliable Cummins QSB6.7 diesel four stroke engine. With Cummins' willingness to push the advancement of technology, we have seen the Tier 4 final reduce fuel consumption by up to 5%. When economy mode is selected over the duration of the shift Kalmar has seen fuel consumption reduced by up to 15%.
Optimized variable speed hydraulics, along with the fuel-efficient engines equals increased uptime. This leads to longer service intervals, and with the onboard CanBus system you are able to reduce downtime, and plan for preventive, predictive maintenance rather than reactionary maintenance. Adding all energy savings features together, 30% savings are possible with Kalmar heavy equipment.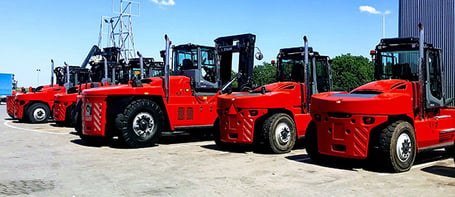 Kalmar Heavy Forklifts Built for Performance
Kalmar engineers some of the most durable and highest-capacity machines in the world. The DCG lineup has no deduction in capacity until 275" in vertical lift, an impressive retention of lifting power. Most competitors derate 3-5% once the forks are lifted off the ground. Kalmar has no capacity loss for side shifting or fork positioning carriages. Very few competitors can achieve this engineering feat. Operator testimonies prove these heavy forklifts can operate continuously in rugged, tough environments.
Want to learn more about Kalmar's DCG heavy forklift lineup? Contact us to discuss your needs and learn more about configuring this innovative equipment. You can also reach out directly to our dealerships by phone:
Auburn 253-854-5438
Pasco 509-547-7413
Wenatchee 509-663-9009
Yakima 509-457-5137