Port & Terminal Automation: What You Need To Know
by Hank Ansley, on June 28, 2021 at 3:45 PM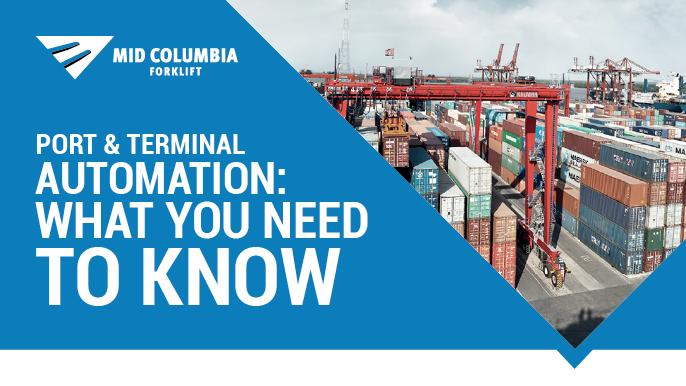 For busy ports and terminals in Washington state, shipping has exploded in recent years. Increasing consumer demand and changing trade patterns have created increased volume through congested spaces. To cope with these growing volumes, demands for automation are increasing. While that buzzword may be scary to some, it shouldn't be - here's what you need to know about port and terminal automation.
What Automation Means for Washington Ports & Terminals
Automating ports and terminals requires investments in equipment and infrastructure. It's not as simple as plugging in an iPhone app to your workspace - it requires careful calibration of your location's equipment, storage configuration, product workflows, infrastructure, and more. Software such as the Kalmar ONE solution is only a portion of the solution. A properly automated port or terminal will deliver increased throughput of containers and increased equipment efficiency in equipment.
Automation doesn't mean all equipment will be driven by robots - you may still have some operators in place. However, specialized equipment pieces like straddle gantries, ship to shore cranes, yard hustlers, and some others may be automated. These are big changes, but those changes mean increased profitability for companies and more opportunities for workers as long as you have the right data insights to drive the automation.
Why You Need Better Data
In order to implement automation, you need key data like:
What container flows reduce throughput
Which pieces of equipment decrease in performance near maintenance intervals
Where your facility sees slowdowns
When equipment can be charged ideally during the day
These key data pieces are used to inform how your operation is updated for automation solutions. It's not enough to observe these issues either - actionable data is needed from a telematics solution to ensure its accuracy. A major investment and undertaking like this requires accurate data to deliver a return on investment (ROI). And implementing the right telematics technology solution is key for after your port is automated as well - the data generated will help monitor equipment, optimize maintenance, and maintain performance for years to come.
How Automation Affects Your Infrastructure Needs
A large part of automation in material handling involves shifting to electric equipment. The ability to rely on opportunity or quick charging helps maintain capacity and throughput and reduces the need to rely on fossil fuels. However, large equipment requires more electrical support to avoid brownouts or blackouts due to charging. An in-depth consultation and inspection are needed to determine what electrical updates may be needed to support automation solutions in your terminal. Beyond electricity, your approach, ingress, and egress will all need to be appropriately configured for optimal performance. Automation requires a complete alignment across your port to ensure optimal performance, much like automating a warehouse.
Why You Should Be Excited About Port And Terminal Automation
People say automation robots are going to take your job. In reality, automation creates opportunities for workers to upskill and move into maintenance, operations, and management positions to oversee the new systems in place. The implementation of automated material handling still requires human oversight and maintenance. Beyond this, automation also represents a path towards a business optimized for profitability and sustainability.
Want to learn more about automation and telematics using the Kalmar ONE platform? Contact the material handling experts at Mid-Columbia Forklift and MidCo Material Handling. You can also contact one of our dealerships in the Pacific Northwest by phone:
Auburn 253-854-5438
Pasco 509-547-7413
Wenatchee 509-663-9009
Yakima 509-457-5137
Further Reading
Maintenance Tips for Washington Port Equipment
4 Key Material Handling Configurations for Washington Port Efficiency