Tough Kalmar Forklifts Keep Workers On the Job
by Hank Ansley, on August 25, 2020 at 9:15 AM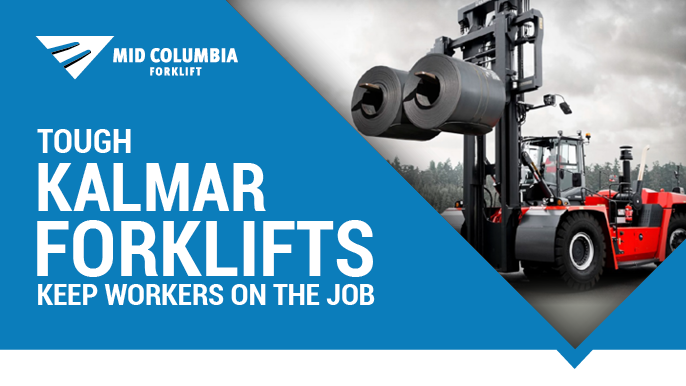 According to OSHA, musculoskeletal and repetitive strain injuries are the most common workers comp claims and one of the top reasons employees take time away from work. OSHA also reports: $1 of every $3 spent on workers' compensation stems from insufficient ergonomic protection.
Common forklift operator injuries include neck and back injuries and soft tissue damage. Choosing a forklift with ergonomic features designed to prevent these common injuries can save you thousands of dollars in medical and disability claims - and keeps your employees happy, healthy and productive.
If your company is like ours, you work hard to find just the right people to become part of your "family." You invest in their success and want them to thrive.
We recently purchased a Kalmar DCG100-6 for no other reason than to drive it around to customers and showcase its ergonomic benefits. If you think Kalmar forklifts are just high-capacity lift trucks, think again. These reliable, robust machines have a lot more to offer.
Why Operators and Owners Love Kalmar Forklifts
When buying a new forklift, there are a lot of things to consider; capacity, price, and cost of ownership usually top the list. Once you've narrowed down your options, consider the person who will operate that machine day in and day out. The forklift you choose could make the difference between keeping a valued employee long-term and losing them to disability.
The 5 Most Common Forklift Operator Injuries
Neck and back pain - caused by twisting around when traveling in reverse
Soft tissue damage - from driving over potholes and cracks
Musculoskeletal injuries - due to repetitive movements
Lower back issues - from sitting for long periods, twisting in the seat and forklift vibration
Whiplash injuries - caused by abrupt stops and starts
Many of the issues above start small: an aching back at the end of the day, or a sore neck in the morning. Over time, nagging pains become chronic issues that affect the operator's ability to live a normal life.
Kalmar Forklifts are "A Pleasure to Drive"
We bought a Kalmar DCG100-6 so customers can experience the 180° rotating driver's seat (see video below) and demo the pedestrian camera that can "see" the difference between buildings and humans. It's pretty amazing stuff!
To truly appreciate all the ergonomic features of this forklift, you have to experience it in person. During the demo, you can pick a load, then rotate the seat, steering wheel, armrest, and foot pedal 180 degrees - with the push of a button. Kalmar's rotating seat completely eliminates the need to twist your back and look over your shoulder. It vastly improves comfort and safety.
Ergonomic Features of Kalmar Forklifts
Other ergonomic features of Kalmar forklifts include:
Hanging pedals
Steering wheel with side-to-side tilt (in addition to forward and reverse tilt)
Electronic 4-way armrest
Curved windows - curved front and rear windows that provide outstanding visibility diagonally, forward and backward
Wider-than-average doors for easy access
Every feature is electronically operated and adjusted, making it easy for the driver to maneuver the forklift with just the touch of a finger
Spacious, full-featured cabs (even on light-duty machines)
Built to last - well-maintained Kalmar forklifts have been known to last 20 years
Powerful climate control
Free Kalmar Forklift Demos in WA, ID and Western MT
When you buy a Kalmar forklift, you not only get a robust, dependable machine, you invest in the health and safety of your team members. Try one out for yourself.
We'll bring our Kalmar DCG100-6 for an onsite demo anywhere in Washington, Idaho, and east to Billings, Montana....no charge! Try it with standard 96" forks or 48" lumber forks.
Kalmar is an industry leader in heavy equipment with a wide range of capabilities from 11,000-pound electric models to the 286,000-pound Super Heavy. Kalmar also offers specialized material handling equipment for ports and terminals and special features like an operator cabin that can move vertically up and down.
Need a custom solution? Contact us online, and we'll find the best equipment options for your needs and budget. You can also connect with a forklift expert at a Mid-Columbia Forklift and MidCo Material Handling location near you:
Auburn 253-854-5438
Pasco 509-547-7413
Wenatchee 509-663-9009
Yakima 509-457-5137
Further Reading
Product Review: Kalmar Heavy Forklift DCG180/330-12
4 Key Material Handling Configurations for Washington Port Efficiency
Common Forklift Operator Injuries and How to Prevent Them