8 Undisputed Benefits of Kalmar's Rotatable 180-Degree Forklift Seat
by Hank Ansley, on April 9, 2021 at 6:30 PM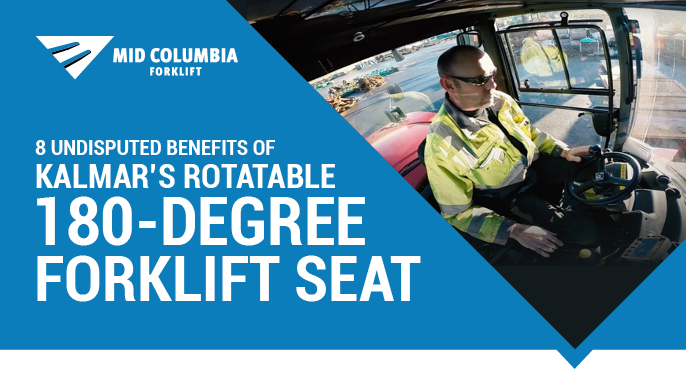 Forklift operators often deal with high levels of physical strain. This risk is even higher when they're transporting large and bulky items. Why? These items block drivers' views, forcing them to drive backward. They have to twist their upper bodies. This twisting can result in musculoskeletal injuries, pain, fatigue, and lost working days. It's also the reason Kalmar invented the 180° driver seat.
You should be able to have a clear view while being comfortable at the same time. And as a bonus to your business, this lift truck offers greater handling capacity.
Physical Relief and Increase in Efficiency
Look at a recent Trade and Goods Distribution study. It showed that rotating forklift cabins can reduce drivers' physical stress by 60%.
Forklift drivers can maneuver and handle loads safely in a driver seat. This is due to its increased circumferential visibility and drivers' physical relief. So, what? Well, for one, you'll see increased work efficiency.
Enhanced Safety with a 180° Rotating Driver Seat
Bulky loads increase the likelihood of an accident because they block drivers' views. Some accessories can help, such as cameras or mirrors. Yet, these items don't fulfill many safety requirements.
The rotating driver seat offered by Kalmar is a solution to this dilemma. As drivers reverse, the entire driver's seat can rotate to the left— steering wheel, armrest, and pedals — by as much as 180°.
The driver can sit at the proper angle to the lane of traffic. They can view their entire route facing forward. This angle not only improves their view, but it's also safer.
Ease of Use
Another advantage of the Kalmar 180° rotating driver seat is that it's both intuitive and simple. One hand motion brings the workstation, seat, pedals, and steering wheel into position.
Kalmar forklift drivers don't have to turn their seats when they need to change direction. The driver seat spins, helping drivers maintain proper position and visibility.
Benefits of the 180° Rotating Driver Seat from Kalmar
1. Creates a safer operating environment
The cab offers significant physical relief. Many forklift seats lead to poor driver posture, but not the Kalmar 180º cab. It provides your drivers a safe and healthy space to work.
2. An exceptional line of sight
Some of the most common claims are drivers running into objects, other forklifts - and people. Kalmar's cab gives users better line-of-sight, meaning fewer accidents. It provides a better view than other forklifts because you can rotate the seat as needed.
3. Intuitive and straightforward
The operation of the rotating cab in the Kalmar lift is simple, safe, and intuitive. Controls are easy to figure out, and all the moving parts work together smoothly.
4. Lower maintenance costs
The cab's durability leads to long service life, with low repair and maintenance expenses. These savings can juice your bottom line over time.
5. Cuts down on worker absences
Forklift-related sprains and strains can take workers off the job for months at a time. The Kalmar 180º rotating cab can help you avoid this headache.
6. Knocks claims cost way down
Another benefit to the Kalmar cab is how much you can save in claims expenses. Operator injuries can cost tens of thousands of dollars. This ergonomic cab will slash claims and their costs.
7. Designed top-to-bottom for productivity and safety
Forklifts should be safe and efficient. They should have proper tires, ergonomic seats, good visibility, and appropriate steering controls. The problem? Many lifts don't. The good news is this cab checks all these boxes.
8. Streamlines your business operations
A forklift rarely affects efficiency, safety, and your bottom line all at once. Yet, the Kalmar 180º rotating cab does. It does more than protect your team members. It also saves you claims costs, cuts time loss, and increases worker productivity.
Get Your Kalmar Forklift with a Rotating Driver Seat Today
Kalmar forklift trucks can provide the best possible return on your investment. They're ideal for demanding jobs and can handle heavy loads of items like wood and steel.
Next-generation forklifts sold by Kalmar are fuel-efficient and provide superior lift performance. They're also easy to maintain and have excellent reliability.
Need a custom solution? Contact us online, and we'll find the best equipment options for your needs and budget. You can also connect with a forklift expert at a Mid-Columbia Forklift and MidCo Material Handling location near you:
Auburn 253-854-5438
Pasco 509-547-7413
Wenatchee 509-663-9009
Yakima 509-457-5137
Further Reading
Product Review: Kalmar Heavy Forklift DCG180/330-12
4 Key Material Handling Configurations for Washington Port Efficiency
Common Forklift Operator Injuries and How to Prevent Them